2008 YEAR OF CHANGE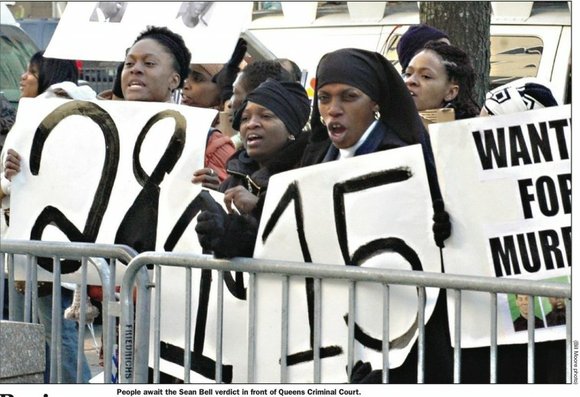 MAY
In response to the Sean Bell verdict, Congressmembers from around the country came to New York to discuss possible federal government involvement in the case. House Judiciary Committee Chairman John Conyers led a town hall meeting with testimonies from Al Sharpton, NAACP New York State President Hazel Dukes and others. Barack Obama won the North Carolina and Oregon Democratic primaries. The city's highest ranking Black police chief, Douglas Zeigler, became a victim of racial profiling when he was mistakenly stopped at gunpoint and ordered to get out of his vehicle by two white officers. Zeigler served as the head of Community Affairs Bureau. In response to the Sean Bell verdict, Rev. Al Sharpton led a citywide protest where thousands of citizens participated in an act of civil disobedience. Protesters attempted to slow down rush-hour traffic by blocking bridges. Hundreds of people were arrested, including Sharpton himself, Councilmember Charles Barron and Rev. Herbert Daughtry. Benjamin Jealous was tapped to be the new president of the NAACP and became the youngest person to ever lead the organization at age 35. Gov. David Paterson signed a bill that made displaying a noose in New York State a Class E felony. Four police officers in Philadelphia were fired after kicking and dragging three Black male suspects after a high-speed chase. TV news cameras caught the incident. Racial tensions rose in Crown Heights as a slew of incidents occurred between Blacks and Hasidic Jews.
JUNE
The Brooklyn Bridge celebrated 125 years. Gov. David Paterson pardoned Slick Rick. Blues icon Bo Diddley died at age 79. Barack Obama took the first step toward history when he secured the 2008 U.S. Democratic Party presidential nomination. He became the first African-American presumptive presidential candidate for a major political party. As summer got into full swing, a spike in violent crimes riddled the city, including shootings. Hotspots included Harlem, Crown Heights and Far Rockaway. Sharpton led a march in Harlem to bring awareness about the problem. Jazz organist Jimmy McGriff died at age 72 in New Jersey. The NYPD announced that officers would carry Taser guns on their belts. Former Assemblymember Diane Gordon was sentenced to two to six years in prison for felony bribe taking, along with other charges. Mayor Michael Bloomberg attempted to close Off-Track Betting, which would have left 1,500 people jobless. Gov. Paterson stepped in and announced that the state would assume both assets and liabilities of OTB. At the 62nd Annual Tony Awards, "In the Heights" earned eight awards, including Best Musical. "Passing Strange" won Best Book of a Musical. Journalist Tim Russert died at age 58. Brooklyn-born David Paterson completed his first 100 days as governor of the State of New York. Columbia University professor Madonna Constantine was fired for alleged plagiarism. Constantine previously made headlines in 2007 after a noose was found on her office door. Radio personality Don Imus was under fire again for making racial comments about a Black NFL player being arrested.
JULY
The City Council passed a $59 billion budget for the 2008-09 fiscal year. The budget received harsh criticism because of city programs that got cuts, including summer youth jobs, senior services and the closing of several community centers. As a result of budget cuts in the city, crime began to increase among youth who had more free time in the summer. Several shootings took place across the city and a large number of those killed were teenagers. CNN premiered its documentary "Black in America" with mixed reviews. Sharpton threatened to disrupt the 2008 MLB All-Star Game at Yankee Stadium by holding another civil disobedience protest but cancelled. A Brooklyn judge dropped the case against Black attorneys Michael and Evelyn Warren. The Warrens became victims of police brutality in June 2007 when they were assaulted and arrested in Brooklyn by an officer after they tried to stop police officers from beating a man. The AFL-CIO endorsed Barack Obama. NFL player for the San Diego Chargers, Terrence Kiel, was killed in a car crash at age 28.Gov.David Paterson appointed Paul T. Williams to head the Dormitory Authority of the State of New York. Williams was the former president of One Hundred Black Men, Inc. of New York City. The Grace Tabernacle Christian Center and the church community were put in a state of shock and sadness following news that the Rev. Timothy Wright, his wife Betty and 14-year-old grandson D.J. got into a car accident. Timothy Wright survived the accident with serious injuries but his grandson and beloved wife died in the crash. Esmin Green, 49, died on the floor of Kings County Hospital after she was left unattended for 24 hours. The incident was caught on security cameras and her family sued the hospital for $25 million. Public relations icon Patricia L. Tobin died at age 65. Mayor Michael Bloomberg reformulated the standard for poverty in the city. To be classified as poverty-stricken, a family of four had to make less than $26,138 annually. This raised the poverty rate in the city by 23 percent. The NAACP held its 99th annual convention in Cincinnati, Ohio. Barack Obama addressed the delegates in the convention. A grand jury decided not to indict NYPD Officer Sean Sawyer for the shooting death of Jayson Tirado. Sawyer, who was off-duty, shot Tirado, claiming self-defense during a road rage incident. Reports surfaced that longtime Harlem Congressman Charlie Rangel had more than one rent-stabilized apartment in Lennox Terrance. He was using one of the apartments as a campaign office and later gave it up. National Black Theater executive director Barbara Ann Teer died at age 71. Her funeral and processional attracted thousands of mourners. Two white NYPD officers from the 25th Precinct allegedly put a Black baby doll head on their car's antenna and drove around Harlem, vexing the community. A man who attempted to take a picture of the doll head with his camera phone said the officers snatched off the doll head before he could take the picture. Actor and dancer Andrea Edwin Smith died at age 41.