A cultural dialogue with Felix Augustin, Consul General, Haitian Consulate in NYC
Misani | 4/12/2011, 4:47 p.m.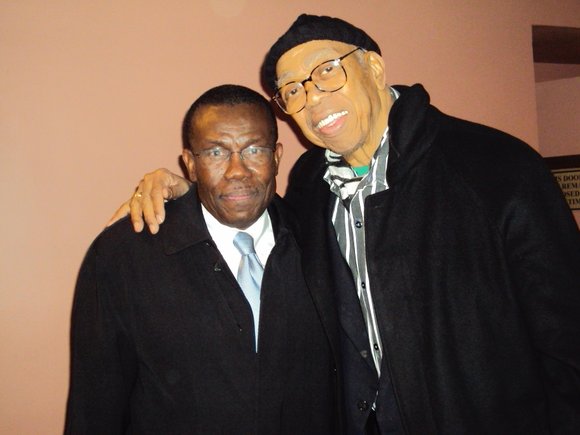 Focusing on Haitian folklore, Augustin touched upon Baron Samedi, the god of life and death. One of Holder's favorite characters, he portrayed this Haitian folkloric figure in Truman Capote's Broadway production, "House of Flowers" when he first came to New York from Trinidad. Holder subsequently played Baron Samedi thirty years later in the James Bond film "Live and Let Die."
"Baron Samedi in ancient folklore is near to the religious aspect of the culture," Augustin reveals. "Every Haitian will tell you Baron Samedi is what I would call one of the gods of our culture. In the cemeteries of Haiti there is a cross and that cross is the signification of Baron Samedi. So when people go to the cemetery or any forms of cultural festivities, they dance Baron Samedi. They adore Baron Samedi because of the uniqueness of his dancing of his presentation. The best dancers of Haiti--they dance Baron Samedi."
When questioned about the phrase "they dance Baron Samedi" Augustin explains, "When you go to the cemetery, he is the only one you are going to meet there." To get past that entrance, one must dance. The dance of Baron Samedi is well known in the Haitian Diaspora and in Haiti as a whole," Augustin says.
Echoing Holder's observation that "Haitian material is rich in folklore and that it's like that of the Greeks or ancient Africa," Augustin heartily agreed: "We have not lost it, and it is exactly like the Greeks or the Romans or the other old civilizations. We are a people that have preserved the African culture in the Caribbean and we have not been ashamed of talking about it."
This special series of "Caribbean Lingo!" continues as The Honorable Mr. Felix Augustin discusses politics and Haiti one year after the earthquake.
To contact the "Caribbean Lingo!" series, which pays tribute to Caribbean Diaspora artists and art forms of the highest caliber, please email our team at: Caribbeanlingo@gmail.com