Adofo Muhammad: Man of principle on a mission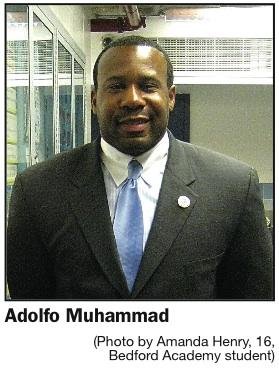 "During my two years there, we created a really strong family atmosphere. We increased math scores by 33 percent and ELA scores by 9 percent. And even though I was brought there as the school was scheduled to close, we were really able to socially develop the students. "The idea was to close without it negatively affecting the students' social and academic development. That was my most rewarding school experience outside Benjamin Banneker. You get immediate gratification when you teach high school students because you see the fruits of your labor when they go off to college, but teaching at this junior high school wasn't delayed gratification because we could see the impact that we were having on the children. It was really wonderful."
Not sure what his move was going to be after MS 143 closed, Muhammad didn't have to ponder long when he got the opportunity to go to Bedford Academy as the principal in August 2008. "This has been a real adventure," Muhammad mused. "This is one of the top schools. It's a hidden jewel in Bed-Stuy with a tremendous graduation rate and significant success in New York State Regents examinations. "This is a school," the principal smiled proudly, "that is full of committed parents who really care about their children's education."
Not at the school quite a year yet, Muhammad has some ambitious plans for the 300- plus students. "My goal, along with the teachers, is to build four majors to expand on what Bedford Academy has already established. We have a relationship with New York University Polytechnic that services our pre-engineering pro- gram. We are starting to build three other majors: pre-law, pre-med and pre-education. Another one of my goals is to expand the critical thinking and social developmental skills."
Muhammad has found his niche, his vocation, his calling, his love--educating the children of the inner city.
"Working with the parents, teachers, students, the PTA and the alumni organization called the Dream Keepers, we are seeking to expand what George Leonard created at Bedford Academy. Through the continuing mentorship of Dr. Lester Young, we are seeking to bring additional resources and pro- grams to Bedford Academy."
Make no mistake about it, Muhammad concludes, "I look at and treat all the children as if they were my own. Any possible way I can collectively develop social and economic ideals in the students I service,I will gladly utilize different protocols to make sure that it happens."