Advocating for the children, parents rally at school hearing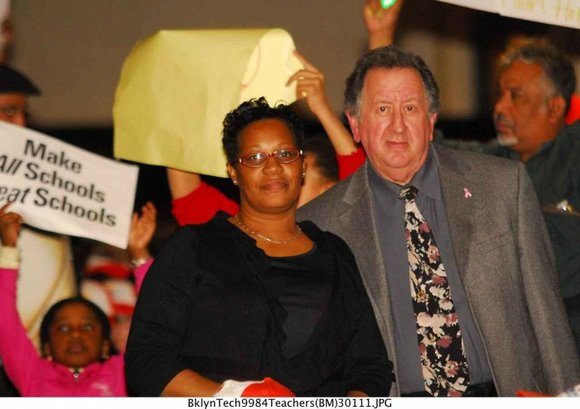 "Why is the DOE trying to put so many charter schools in Bed-Stuy unless they are trying to get rid of public schools?" asked Mary Jackson, guardian of a PS 308 elementary school student. "Once the charter schools come into a building, they take over the school."
On March 1, the Panel for Educational Policy held a meeting at Brooklyn Tech High School in Fort Greene, Brooklyn. Thousands of people have showed up at previous PEP hearings, garnering much media attention as parents opposed the charter schools' usurpation of their school spaces or the outright closure of their schools. They and the supporters of charter schools continue to make their voices heard before the PEP.
Schools Chancellor Cathie Black had to endure a phalanx of protest last month as parents, students and activists slammed the DOE's decision to close 22 of the 25 proposed public schools.
During Tuesday's meeting, dozens of pro-charter school parents and students held up posters demanding "Bolder, faster change." Bloomberg did not respond to a request for comment regarding the shouting and yelling of the pro-charter school crowd on Tuesday. After a similarly raucous previous meeting, Bloomberg condemned the behavior of parents and students protesting to save their schools from closure or charter school co-location as "un-American."
"I'm very proud of the way parents expressed their opinions. It was a wonderful expression of democracy," Councilman Jumaane Williams said, speaking so that his words would reach Bloomberg. "I wonder what he would say about Dr. Martin Luther King."
Both Williams and Councilman Al Vann called for a moratorium on the school closings and co-locations.
The PEP consists of 13 members, 8 of whom are appointed by the mayor, which has led to accusations of them merely "rubberstamping" the wishes of Bloomberg and his schools chancellor.
Vann implored the PEP to not just go along with what had been agreed upon even before the voting. "We want you to use your intelligence and your independent judgment. [Otherwise] shame on you."
"We're not against charter schools, but there is just no space in 308," said Patricia Etheah, parent and PTA head at PS 308 Clara Cardwell School. Hers was a sentiment echoed all around the auditorium by parents objecting to the proposed forced co-location with charter schools. "At 308, lunch starts at 10:30 to accommodate the students we already have. We do not want the Teaching Firms for America charter in our school. We do not have the room. Charter schools have a right to exist, but you are going to hurt our kids by overcrowding our school--the cafeteria, the gym and the auditorium."
Ronald Mailman, UFT rep for District 16 told the AmNews, "The Office of Portfolio Planning did a very poor job picking this school. The DOE walked through the school themselves and said there was no room." To put another school in the Bed-Stuy K-8 building would amount to a "safety hazard," said Mailman. "The UFT safety consultant, Fred Olmsted, said that it is a very bad idea to put another school in 308. Find your own building."