Africa Sings!!!SummerStage flies high with Baaba Maal, Salif Keita, Bassekou Kouyate
Misani | 4/12/2011, 5:31 p.m.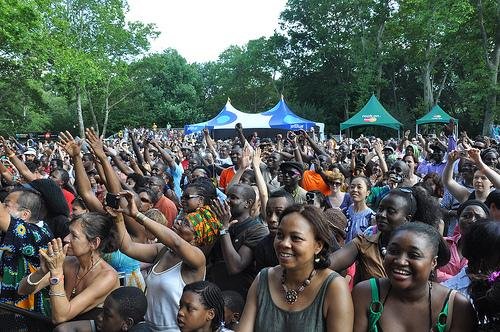 SummerStage 2010 is flying high. And rightfully so. This year marks the 25th anniversary of City Parks Foundation's SummerStage, the coolest outdoor party in New York City. Taking over the city's five boroughs, music, dance, theater, spoken-word, opera and family programs will continue to enrich 17 urban parks through August 27.
In Manhattan, Central Park takes center stage. Added to that are several other parks in the borough that include Highbridge, East River, Marcus Garvey, Jackie Robinson and Tompkins Square. In the Bronx, it's Soundview, St. Mary's and Crotona parks. Shifting to Brooklyn, there's Red Hook, Betsy Head, Herbert Von King and Brooklyn Bridge parks, while in Queens, Springfield, Queensbridge and Rochdale were the playing fields. And in Staten Island, Tappen Park is the hot spot for the biggest outdoor party of the season.
This SummerStage silver anniversary presents a spectacular lineup that has to be experienced to be believed, and guess what? You still have time. Rain or shine, SummerStage's cross-cultural program is the order of the season. Like a well-balanced meal, their programs are a triumphant testimony of diversity, diversity and more diversity that reflects New York City's rich mosaic. Under the hot summer skies, everyone comes together in a celebratory mood, breathing the same air, shaded by the same lush greenery, enjoying each other's culture, while movin', groovin' and rockin' to the intoxicating rhythm of life through the performing arts.
And all of it--over 100 free cultural events--is free and "Privately funded Publicly enjoyed," as advertised in the walloping, compact-sized City Parks Foundation SummerStage program booklet.
Africa was featured prominently in this year's lineup: Representing the continent were the inimitable Baaba Maal and his band, Dande Naal, from Senegal on June 14; Salif Keita and his group from Mali on June 20; and Bassekou Kouyate and Ngoni Ba, also from Mali on July 25.
All these concerts were jam-packed, as is the norm when these phenomenal artists perform worldwide.
Maal's show, which was dubbed "Playing for Change," was the "brainchild of producer/engineer Mark Johnson, who "records musicians in myriad outdoor environments...and combine[s] the tracks into new collaborations between artists that may have never met in person." His purpose for this cross-cultural exchange is to "illustrate the power of music to transcend cultural and geographic boundaries."
Well, this played out beyond anyone's imagination in a very real way at Central Park when Maal and Massamba Diop, his fabulous, zany, talking drum master-musician decided that they didn't like the boundary between the stage and their audience. So, Massamba leapt off the stage and--zap!--like Superman, he was suddenly over the long fence that separated the audience from the stage, and lo and behold, he was in the center of the crowd.
Mind you, all this time, his talking drum was still under his arm and he was still playing. And guess what? He was surrounded by everyone--New Yorkers and tourists--as they followed the Senegalese, who, according to their traditions were peeling off bills in every denomination and giving it to Masamba to show their appreciation for his artistry as a great musician.