Amadou's renewable gift to New York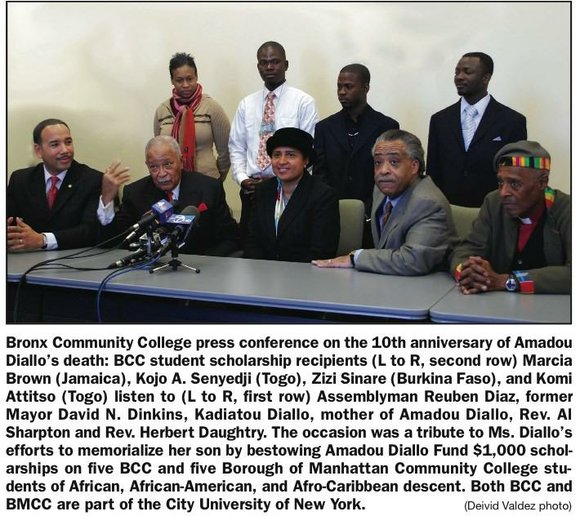 Twenty-three-year-old Amadou Diallo died in a hail of police bullets on Feb.4, 1999, but not only did his death spur a new leg of the local civil rights quest, the symbol of Diallo's innocent blood spilled was used to create scholarships--renewable gifts--for students striving to make the best of themselves and contribute to society.
"We're here to mark the 10th anniversary of my son's passing with a few words to reflect on it and by moving forward with the Amadou Diallo Foundation," said Kadiatou Diallo at the beginning of the press conference at the Bronx Community College on February 5.
It was almost like a family reunion, with a series of Ooh-remember-when-we's breaking up sentences as warm reflections glowed on the faces of former Mayor David N. Dinkins, Kadiatou Diallo, mother of Amadou Diallo, Rev.Al Sharpton, Rev. Herbert Daughtry and Assemblyman Reuben Diaz Jr.
What could have been a painful remembrance instead turned into a teaching moment of upliftment, inspiration and motivation.
The young Bronx Assemblyman Reuben Diaz recalled the "marching, tears and the prayer vigils." He told Mrs. Diallo, once a mother of four, "You cradled the community as if we were all your children."
To say Madam Diallo was stoic would belie her passion, determination and conviction of keeping her son's memory alive through financially assisting and verbally encouraging young people to achieve through education.
Kadiatou's eldest son was hit 19 times by four white NYPD cops, who aimed 41 bullets at him. They were to later claim he "fit the description" of a suspect their Street Crimes Unit was looking for. Actually, the street vendor had just been returning home and was standing in his own doorway in the Soundview section of the Bronx, when Kenneth Boss Edward McMellon, Richard Murphy and Sean Carroll fired their weapons at him. Rev. Daughtry reflected on what he called "the death chamber in his own vestibule."
Despite the massive civil disobedience, citywide protests and international attention, the second-degree murder charge and the evidence, the four cops were eventually acquitted in the controversial case, which had been moved to Albany. Then-acting Attorney General Eric Holder at the Justice Department refused to pursue federal civil rights charges against the four officers. Edward McMellon and Richard Murphy became city firefighters.
Kenneth Boss remains on desk duty with the NYPD and is scheduled to return to Iraq for a second tour with his Marine reserve unit. Sean Carroll retired in 2005 and now works in an administrative position at Floyd Bennett Field. Rev. Daughtry called Diallo's death "another in a series of police killings." As he went down the list, mentioning Eleanor Bumpers and Louis Baez, he said that born of the city's collective pain and memory came "the decision to do a South African series of demonstrations" at One Police Plaza. Sharpton surmised: "For 1,200 people, for over 13 days, to just come by the hundreds and submit nonviolently to jail hadn't happened anywhere in this country since the '60s.And that amount of people going to jail in a day had not happened in the '60s. It was unprecedented to see former mayors, members of Congress and Academy Award-winners like Susan Sarandon going to jail with housewives and regular people every day."