Amadou's renewable gift to New York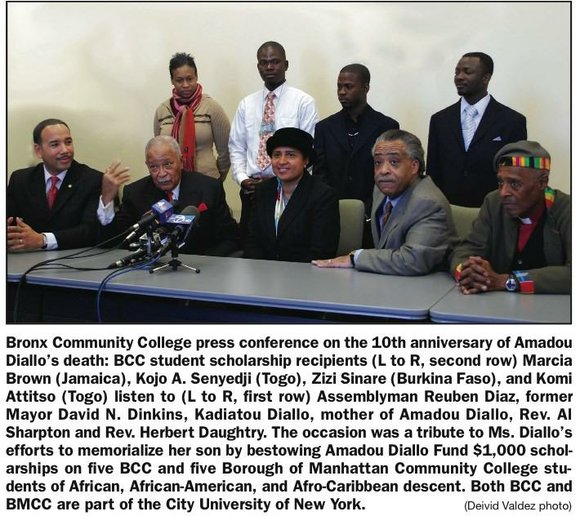 Dinkins said that some people asked if it "was dignified for a former mayor to be arrested." But he said jurisprudence made it a no-brainer. The city was caught up with a passionate outrage that birthed an organic movement demanding change in policing, which eventually led to Police Commissioner Ray Kelly terminating the Street Crimes Unit. And, as Sharpton pointed out, while the family may not have won the case, cops involved in such cases can no longer take it for granted that they would not be arrested, prosecuted or convicted, he said. He talked about an effective and sustained movement that came out of the people's response to Diallo's killing.
The reverend also noted that when Mrs. Diallo arrived in New York, Mayor Giuliani's administration kicked the P.R. machine into high velocity, placing her family in a top hotel on Fifth Avenue, but on the urging of a community too familiar with police brutality cases and that particular mayor's regular response to it, she "left that hotel and she has become a hero and a symbol of the movement ever since...and she came back to give comfort to others, including the family of Sean Bell." Sharpton said, "She never got involved in politics. She always said she wanted no violence, no misbehaving. This city and this nation owes a lot to Madame Kadiatou." Sharpton praised her "responsible leadership," and noted other cities like Oakland, Calif., which saw days of urban rebellion in the wake of the police killing of Oscar Grant last New Year's Day.
"Any one of us could be Amadou Diallo," said Diaz. "The Bronx was vilified." The 43rd Precinct was "the wild, wild west."
Diaz remarked how the outlook had seemingly changed. "We felt we couldn't walk down the street with a wallet in our pocket, let alone be president of the United States." Meanwhile, the Diallos are in limbo in terms of their status. Here on an extended tourist visa, her green card pending, Kadiatou Diallo is unable to travel to visit her son's burial site or even the computer lab she is building in Amadou's name. She is requesting that members of the community contact their congressperson to speed up the vote on legislation proposed by Cong. Charlie Rangel to give the family status here, which will enable them to travel back and forth.
On Thursday, tribute was paid to Mrs. Diallo's efforts to memorialize her son by bestowing Amadou Diallo Fund $1,000 scholarships on five Bronx Community College students. Dinkins continues to serve as chairman of the Amadou Diallo Foundation established by Kadiatou Diallo "to diminish racial conflict and foster greater respect for differences among people."
The former mayor continued that work in February 2005 when the foundation created the Amadou Diallo Scholarships "to help bring the dream of an American college education into closer reach for students of African descent throughout the Diaspora. "The Diallo scholars have an obligation to carry forth the message of the Diallo Foundation, and we need them to know that we are invested in them," said Mayor David Dinkins. "Ours is an investment that has no price, but it has great value. It comes to them from over the generations and across national borders and is not to be misspent."