Andre Braugher returns to the stage in 'Whipping Man'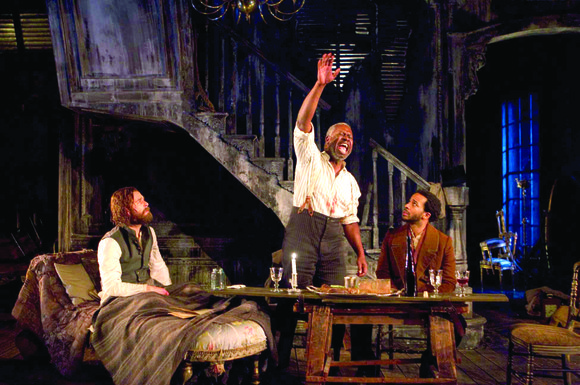 "The Whipping Man" is a dramatic, compelling piece of theater and will grip you from the opening scene to the end. This work by Matthew Lopez looks at Richmond, Va., in April 1865, a time when many things were happening: the slaves were freed, Lincoln was assassinated and the Civil War was lost by the Confederates.
Now, among all these happenings, we are introduced to the lives of three men: Caleb, a Jewish Confederate soldier and son of a plantation owner; and his former slaves John and Simon, who are all living in the soldier's now ravaged home. These Black slaves were raised to follow the Jewish faith and observe Jewish beliefs. They observe the Sabbath and seders when it is Passover.
What was truly compelling to witness was the development of the intricate storyline, which showed the very painful, cruel relationships that these three men shared through the years. Simon, who was the older of the two slaves, has a strong character, but has also been a victim of the pain of slavery. John, or, as Caleb named him, "Nigger John," was a troubled youth who would steal and lie. As a child, he and Caleb grew up together like brothers, but John found out one afternoon to what extent they were not brothers, but rather, owner and slave.
The playwright also shows the irony of the Jewish people being slaves and how Passover celebrates their freedom while they are sharing their faith with their own Black slaves.
Now, the name "The Whipping Man" is a very powerful one, and is not just a name but the occupation of a man who whips the slaves when their masters bring them to him. The whipping man is someone with whom John is overly familiar.
It is absolutely marvelous to behold a cast that so brilliantly brings a story to life. This play is a perfect vehicle for Andre Braugher to return to the stage. As the former slave Simon, he is forceful, caring and practical. Andre Holland as John is also fantastic. He is clever, angry and proud as the lying, stealing slave who has had a very rough way to go. His character definitely is amusing and high-spirited.
Jay Wilkison rounds out this amazing cast and brings a passion to his portrayal of Caleb, who, while on the battlefield, lost his faith in God due to all of his unanswered prayers. He also proves to be more than just an owner to the slaves.
The direction by Doug Hughes is superb, as these actors enthrall us in this unusual storyline. On the technical side, the set by John Lee Beatty is absolutely marvelous. In fact, all the technical aspects come together beautifully, including lighting by Ben Stanton, sound by Jill B.C. DuBoff and costumes by Catherine Zuber.
"The Whipping Man" is presented by the Manhattan Theatre Club at New York City Center Stage 1. For tickets, call (212) 239-6200.