Anika Noni Rose talks about new Disney role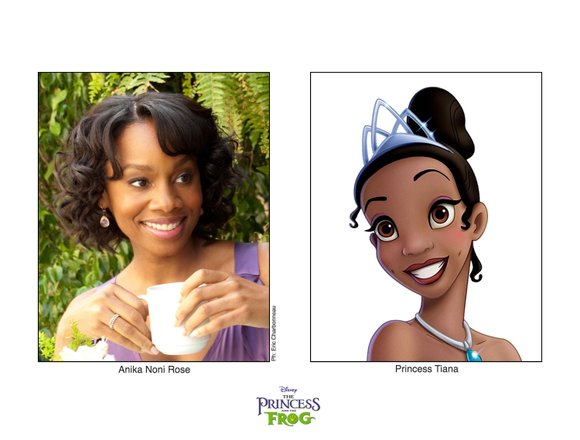 There is a great deal of excitement and anticipation about Friday, December 11, when Disney's 49th animated feature film, "The Princess and the Frog," will officially open at theaters everywhere.
I've seen the film, and it is truly delightful to watch. One of the things that I immediately loved, besides the fact that it would feature Disney's first Black princess, was the actress who was chosen for the role: Tony Award-winner Anika Noni Rose. Rose starred on Broadway in "Caroline or Change" and walked away with a Tony Award for Best Performance by a Featured Actress in a Musical.
She then went on to distinguish herself on the movie screen in "Dreamgirls." That role brought her to the attention of those casting the Broadway revival of the drama "Cat on a Hot Tin Roof," a production that marked the first time an all-Black cast had performed this play on Broadway. Rose was on stage with James Earl Jones, Phylicia Rashad and Terrence Howard, just to name a few of the outstanding cast members.
Now she is starring in the Disney movie "The Princess and the Frog" where, she is once again working with an outstanding cast mainly comprised of African-American actors, including Howard, Oprah Winfrey, Keith David, Jenifer Lewis, Michael-Leon Wooley, Jim Cummings and John Goodman.
Rose came to New York last week and spoke about the movie and this new experience with Disney.
When this actress/singer was on Broadway and in the movie "Dreamgirls," she worked surrounded by other actors, but working on "The Princess and the Frog" was a much different experience.
"It was a bit of a challenge because on a technical level, you are in there [the recording studio] by yourself, so if you are not familiar with the little person inside of you, it will be very difficult. As a vocalist, it was challenging because I had to access the horror movie scream. As a singer, it's my instinct not to scream in a way to hurt the cords."
Of course, Rose was willing to do whatever it took to be part of this film. She shared, "It's always been a dream of mine to be a Disney voice. I feel very blessed and very honored to bring this young woman to life and lucky that I'm here at this time to be able to do this."
Besides the joy that Rose hopes children experience watching the movie, she spoke of the joy that occurs while it's being created. "One of the surprises in doing a Disney movie is the amount of joy that takes place in that building, making these pieces. It's joyous to go to work."
Rose's journey toward her dream of making a Disney movie began in the winter of 2006, when she first auditioned. It continued into spring 2007 with more auditions.
"I was chomping at the bit, because I really wanted this. Every time I see a child watching the movie with saucer eyes and I hear the laughter, it moves me. It's such an amazing thing to be able to give a child joy, to touch a child in their fantasy world. It's really beautiful. These children growing up now will never know anything was different. They'll see a princess who looks like them or their cousins, sisters, best friends. I think every little girl should feel themselves the princess and that every little girl should be able to have a princely young man."