Artist provocateur Jasmine Murrell sees beauty in the forbidden and familiar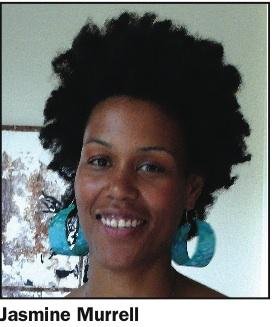 Visual artist Jasmine Murrell sees beauty, power, potential and sometimes strangeness in her people. Her loving eye catches the wide angle and celebrates it all.
Murrell uses paint, sculpture, photography, video, and found object art to explore global commonalities. Rendered in compelling colors and textures, her uncommon vision has struck a common chord. At age 34, the Bedford-Stuyvesant resident is one of the youngest emerging artists ever to debut a solo exhibition at the Center for Arts and Culture Skylight Gallery. She'll welcome guests to the opening reception for "Provocative Insights," her compelling retro-spective, on Saturday, ,June 27 at 6 p.m.
Although this will be Murrell's first solo show in New York City, she's also flown solo at the jRainey Gallery in her native Detroit, the Pounder-Kone Art Space in Los Angeles, and at the University of Texas. New Yorkers have had the pleasure of seeing Murrell's art in MoCADA's "Post-Millennial Black Madonna" exhibition and at the 2009 National Black Fine Art Show. Her work has also been exhibit- ed at Detroit's African-American Museum, the Toronto Biennial and the Preto Gallery in Salvador, Brazil, among other venues.
"My work is highly influenced by African aesthetics and the function of ritual objects in the African Diaspora," says Murrell. "I strive for my work to heal, to discover, to question, to invoke." She hopes to hit this mark in her Skylight Gallery show, which will feature work from three series:
*"Forbidden Foods" explores maturity, guilt and sexuality and their historical association with food. Juxtaposing painted images with photographs on weathered surfaces, Murrell examines prevailing notions of beauty and perfection. The pieces declare that real beauty and sensuality encompass change and that cracks, crevices, marks,folds and bags are honorable, personal mementoes.
"I have developed a series of images utilizing models ranging between 68 to 95 years of age," says Murrell. "The physical evidence of time is ignored by consumerism, which is obsessed with newness. The social value of renewal and youth creates conflicting tension with the physical realities of change and the inherent ability of all living things to age and transform."
*"Finding Home" considers the wide range of meaning of "home" in photographs. Murrell worked on a yearlong commission in South America, documenting living structures while traveling through Brazil, Bolivia, Peru and other countries, living with over 25 different families across the continent, collaborating with local artists and working with local youth.
Also featured in this series are Murrell's concrete and wire sculptures evoking urban disconnect, as well as aged wood salvaged from her time in post-Katrina New Orleans and used as a quiet custodian of untold stories of suffering. "I was commissioned to go down to New Orleans and create work from leftover trash after the storm," Murrell said. "Sometimes my work haunts me because of the subject matter."
*"The Hoods" are rough-hewn sculptured pieces addressing limited perceptions of the Black community from within and without. Murrell examines how the exaltation of negative images can shroud bright light, overshadowing self-validation and potential. She finds encouraging resistance, however, in places such as her adopted home.