Artist provocateur Jasmine Murrell sees beauty in the forbidden and familiar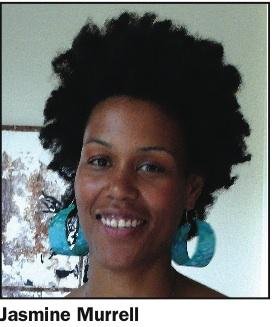 "I think Bedford-Stuyvesant has become a dreamland of Black creative thinkers and artists," Murrell says. "I'm happy to walk down streets and see all the beautiful shades of brown and I hope it will stay this way. I really need to be around my people sometimes to create. We are the inventors and we've got so much juice! It keeps me thirsty for more. Also, I'm from Detroit, so I need a little shouting sometimes to let me know I'm here on the planet!"
Murrell is using her time on the planet to
investigate and celebrate. Prior exhibitions have included "Possession of Fela" at actress C.C.H. Pounder's L.A. gallery, in which Murrell celebrated the music, mission and legacy of the Afrobeat king. She has also presented her "Chocolate Breast" series, with female breasts constructed of the candies and sweet confections bearing names that women have been called. "And before that it was the 'Hottentots Venus' series," she says. "I believe every Black female artist has done something about her!"
Murrell credits her parents with instilling in her the "can-do" creative spark.
"Much of new my work is an entanglement of my experiences down south and abroad, encapsulating my nascent experiences during my dad's construction business on desolate Joy Road in Detroit," Murrell said. "Both my parents were very creative hippies from New York and they made practically everything we owned. My mom made my clothes, toys and even our shoes, because feet ran big in our family. She was the one to introduce me to other cultures and ideas of beauty, such as wabi-sabi from Japan. Around the house would
be found pieces of beautiful, rusted metal and odd-shaped wood.
"My father, on the other hand, was an educator, but his passion was recycling old cars and fixing them up. He did it in a way that was most creative! He would combine two cars together or turn a school bus into a mobile home. They both encouraged me to do whatever made me happy, but I can't say they were excited about the idea of me going to art school!"
We'd bet that Murrell's early career accomplishments have now given her parents cause to be excited. She hopes that New York art lovers will come out to form their own opinions.
"I'm overwhelmed with joy to be able to share my art with my beloved community!" says Murrell. "Art has been a tool for archiving history and culture and influencing just about everything we use today. We choose who represents us, or we will have that chosen for us. New Yorkers take for granted all the incredible art events around us. Going to an art show is most often free, and it's with you forever!"
"Provocative Insights" will run through September 26.The opening reception on Saturday, June 27 is free, open to the public and starts at 6 p.m. All are invited also to an artist talk on Saturday, July 25 and a youth workshop on Friday, July 31.
The Center for Arts and Culture Skylight Gallery is at 1368 Fulton Street in Brooklyn, third floor, at Restoration Plaza. Take the A and C trains to Nostrand Avenue. The gallery's regular hours are Wednesday through Friday, 11 a.m. to 6 p.m., and Saturday from 1 to 6 p.m. For more information, call the gallery at (718) 636-6949 or visit www.jasminemurrell.com.