Barron threatens Quinn with legal action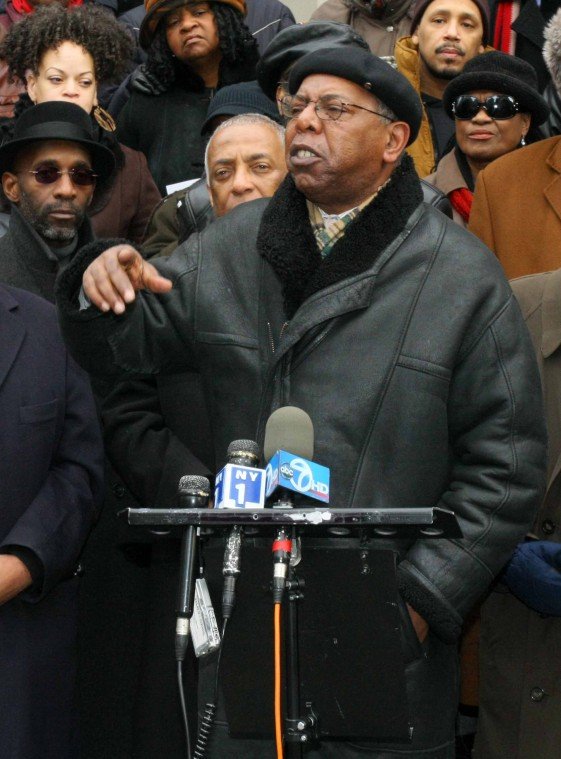 City Councilman Charles Barron said he's not taking the ejection from his chairmanship of the Higher Education Committee lightly and is now threatening possible legal action.
At a press conference on Tuesday, Barron announced that he is in talks with lawyers to investigate his removal. Barron said that his First Amendment rights were violated.
"This is not personal, it's on principal," he said. "I don't want young people to think that they cannot get into electoral politics because they'll be controlled to the point that if they spoke there mind they would be punished."
Along with possible legal action, Barron plans to write a letter to the City Council's Ethics Committee, which is chaired by Councilwoman Inez Dickens, to investigate Speaker Christine Quinn's alleged abuse of power. He is also calling for her removal as speaker.
"To this day, she has not spoken to me, she has not called me up, brought me into her office face to face to tell me that she was removing me from my chair," Barron said. "To this day, I haven't been given a reason to why I was removed from the chair of Higher Education."
The Rev. Al Sharpton attended the press conference in support of Barron and said that Barron is a champion in making an effort in trying to change democracy in the City Council. He added that the ordeal is a bad example for students when it comes to city government.
"This is not about the chairmanship of Charles Barron," he said. "This is about the disenfranchisement of students of the city that now have to see that backroom deals are more important than classrooms upfront. We will win this fight."
Last week, Barron was voted out as chair of the Higher Education Committee by his fellow council members in a 47 to 1 vote. The only vote that came through was one for himself. Newly elected Councilman Ydanis Rodriguez took the position Barron had held since 2002.
Calling the Latino councilman from Washington Heights an "opportunist," Barron said Rodriguez should be ashamed for taking the position after several Black council members turned down the job.
Quinn made the recommendation to relieve Barron of his duties as chair, citing that he wasn't a "unifying force" in the city council.
However, Barron believes that it's in retaliation for his attempt to run as speaker last month, along with a shouting match that he got into with City University of New York board of trustee member Jeffery Wiesenfeld.
In December, the organization Democracy Now, which supports Wiesenfeld, announced on its website that it was assured that Barron would be removed as chair of the Higher Education Committee. Barron believes that Quinn is trying to secure the "white conservative vote" in an effort to be elected as mayor in 2013.
The first meeting for Higher Education Committee will be on February 24. Barron said that he will attend the meeting and will have a gavel to bring the meeting to order as the "people's chair."
City Council Speaker Christine Quinn did not respond to the AmNews at press time even after repeated phone calls and email correspondence.