Before there was Rosa Parks, there was Claudette Colvin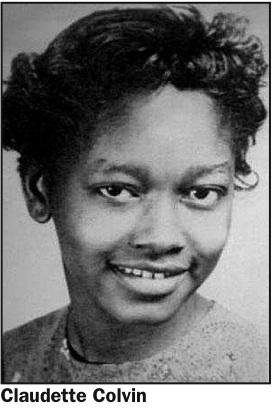 A lot of people credit Rosa Parks for beginning the struggle to desegregate the buses, and although Ms. Parks was the one who ignited the Montgomery bus boycott, it was the Supreme Court case of Browder vs. Gayle that ultimately desegregated the buses.
Colvin said that it was not until five years ago in a movie that this fact came out for the average person to know. "My co-workers were telling me about the movie," she said. Colvin, born September 5, 1939, came to New York in 1968 and is a retired nursing
assistant who lives in the Bronx.
Besides law students, most don't know about the case or her act of civil disobedience that opened the door to many of the rights that African-Americans were finally granted from the Civil Rights Movement. Mary Louise Smith, a plaintiff in the case, also refused to get up from her seat months before Parks. In that incident, a white woman asked her to get up. According to Colvin, Smith told the women it was the bus driver's job to tell her to get up. "She used profanity; I didn't," Colvin said.
Colvin said she never felt resentful at Park's fame for desegregating the buses. However, she was "disappointed" by the Browder vs. Gayle case because the four girls were never mentioned in most historical accounts. It was originally five people, two teenagers and three adults, but one dropped out. Colvin said that in 1956, while about three months pregnant, she testified in the case. Laughing, she said they could not use her for the movement because they found out she was pregnant. Other accounts also attribute her "darker" skin as a factor in the decision to use Parks as the spokesperson.
"They didn't use Mary Louise Smith, either," she said. "They said her father was a drunk. They needed the right people to win the white community. [And Ms. Parks], she was a respectable Black woman; they figured they couldn't use two teenagers." The "they" she's referring to is the NAACP. Reflecting on President Barack Obama breaking the "last barrier" in his journey to the White House, Colvin said that after Hillary Clinton didn't win the primary, she knew Obama would win.
"Bush did that," she said. "People wanted something different than a Republican. How can you promote democracy if you disenfranchise its citizens for so long? This is America's chance to redeem herself, and Obama is the fulfillment of that." Colvin noted, "It's not a miracle that he's there," she said. "He is the best they had. "He is not "contaminated" by the laws and history of America's racial oppression toward African-Americans. He is Hawaiian, she said. "He read about the injustices of the past, but that's a different thing than if you have lived it. I am more proud of Michelle Obama and the portrayal of a Black family that her and her children represent."
She continued to say that she hopes the inauguration is not a "rock concert" with all the excitement, and then when you leave, it's over. "I hope the young people keep going, keep pushing. We have a lot of work to do, "she said. "I know that Black people are not inferior." She said that we are losing too many Black men to prison and pleaded for them not to waste their minds. "We're not competing against white people. It's a 360-degree turn: People are coming out of every nation," she said. "With faith and taking it seriously, this historic moment of electing a Black president can continue to inspire people. I hope it's not just a one-day thing."