Bellevue Black History Thursdays - Celebrating Pioneering African American Women in Medicine
4/12/2011, 4:38 p.m.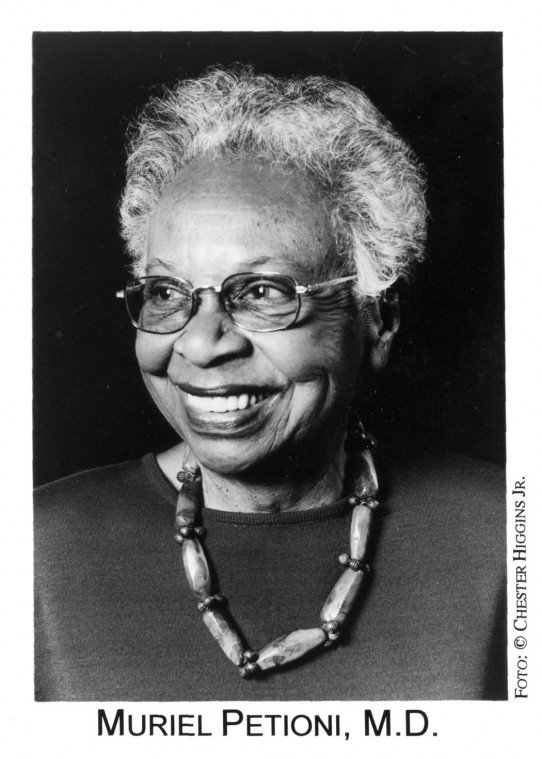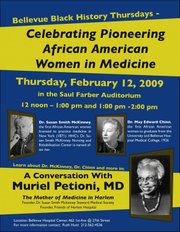 Muriel Petioni, B.S., M.D.
Born in Trinidad and raised in Harlem, Dr. Muriel Petioni is known as the "Mother of Medicine in Harlem." Following the footsteps of her physician father she graduated from Howard University College of Medicine, the only female in its Class of 1937. After a two-year in tern ship at Harlem Hospital she worked at several southern black colleges before establishing her own practice in Harlem in 1950 and taking over the 131st Street offices of her late father in 1951.
She continued to serve her community as a caring family doctor for four decades. Her emphasis was always on treating the whole person rather than the particular ailment or disease. In addition to receiving patients in her office she made house calls, primarily to mothers with small children and the elderly. She also worked tirelessly as an advocate and activist for better health care for the underprivileged and underserved and as a mentor to young women interested in careers in the sciences and medicine.
Seeing an urgent need for sharing of knowledge and opportunities among black women physicians, she founded the Dr. Su san Smith McKinney Steward Medical Society in 1974, named after the first African-American woman licensed to practice medicine in New York State.
In 1976 she organized the Medical Women of the National Medical Association (NMA), and served as its first president. The organization was later re named and adopted as the official Council on Women's Concerns of the NMA. In the mid-1980s she founded the Friends of Harlem Hospital Center, which significantly raised the hospital's pro file and al most two mil lion dollars for its support and enhancement during her seven teen-year chairmanship.
Dr. Petioni's life-long commitment to community medicine, social justice, health care for the disadvantaged and aged, medical education, mentoring and women's is sues has been ex tolled in numerous publications. Among the many awards and citations she has received, she has been honored as a Distinguished Alumni by Howard University, and by the Howard Medical Alumni Association; by the NMA, which named its annual women's luncheon in her honor; by the Harlem Hospital Center, which named its board room after her and by the New York Coalition of 100 Black Women, the Schomburg Center and the City College of New York.
The Dr. Muriel Petioni Hospital in Yele, Sierra Le one, West Africa was established and named in May 2006, for her help in facilitating its equipment and furnishing. In April 2007, plans were announced for the creation of a charter school for health, scholarship and community leader ship in New York City, for students from first grade through high school, that is also to be named in honor of Dr. Petioni.
On May 10, 2007, she at tended the annual dinner of the Howard Medical Alumni Association. On that occasion, she celebrated the seventieth anniversary of her graduation from the College of Medicine at Howard, historically known as the "Cap stone of Negro Education."
Shortly there after, on May 15, 2007, Dr. Petioni received the "Barnard Medal of Distinction," Barnard College's most significant recognition of individuals who have demonstrated a commitment to excellence in the conduct of their lives and careers.