Bird is the word in NYC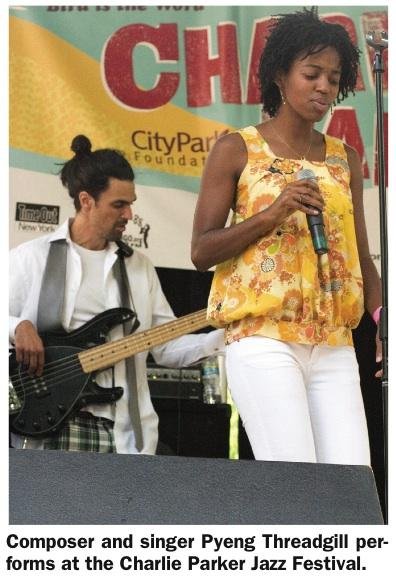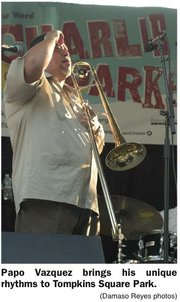 There are lots of summer institutions in New York, but perhaps none is as beloved by jazz fans as the Charlie Parker Jazz Festival, held this year on the last weekend in August. Featuring a diverse group of performers, music lovers both uptown in Marcus Garvey Park on 124th Street, as well as downtown in Tompkins Square Park on Avenue A, enjoyed a last taste of summer as well as some great music.
Eight great performers lived up to the memory of the Bird over two intense days of music. While Saturday the clouds threatened, Sunday dawned warm and clear, giving festival fans the summer they longed for in June. The festival brought together a diverse group of musicians who have all been influenced by jazz, from pianist Aaron Parks, Grammy Award-winning alto sax player Gary Bartz to the Dred Scott Trio.
On Sunday afternoon, thousands of fans jammed Tompkins Square Park in the East Village to reconfirm that, far from dead, jazz lives in the here and now. East Village native Pyeng Threadgill bought her original compositions and distinctive voice to the stage in a great set. The soulful mix of funk and R&B was not anything Charlie Parker would have heard when he lived in the neighborhood 50 odd years ago, but the linage and roots of her music were clear for anyone with an ear to listen.
Also taking the stage as the bright summer's light filtered through the trees was Papo Vazquez and his Pirates Troubadours. Bringing a lighthearted energy to their self-described "Afro-Puerto Rican" rhythms, Vazquez led his band with an intensity many younger performers would do well to emulate. His enthusiasm was matched only by the number of instruments he played in between conducting his motley pirate orchestra.
The Charlie Parker Jazz Festival, held annually by the New York City Parks Department, is a perfect example of why living in New York City, especially in the summer, is so wonderful. Rather than simply playing the standards and rehashing the past, as great as it is, the festival organizers brought us a group of musicians whose diversity truly reflects both the evolution of jazz as well as the growth of the city that helped foster this unique art form. We can only hope that next year is as much fun!