Bird lives!
Herb Boyd | 4/12/2011, 5:27 p.m.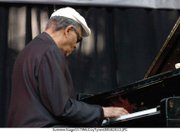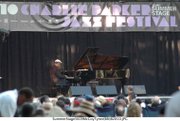 Short political speeches and long explosive solos from musicians were perfectly blended last Saturday at Marcus Garvey Park, where City Parks Foundation's SummerStage gave new meaning to its annual Charlie "Yardbird" Parker Jazz Festival.
Forced from its usual location at the park's amphitheater, currently under repair, the stage was located not too far from North General Hospital, and the expansive crowd reached all the way into the trees and along the stony hillside.
If their vision was obscured, the sound wasn't, particularly the extended solos from J.D. Allen, whose tenor saxophone was as steamy as the weather. Even when he tried to subdue his John Coltrane like effusions under "Where Are You?," a tender ballad, it wasn't long before he and bassist Gregg August and drummer Rudy Royston were off on another raging, crowd-pleasing musical romp.
So furious was Allen's passage that he was able to interrupt several circles of jazz conversations, none more entertaining and rich than the one where author-poet Quincy Troupe, photographer Jules Allen and jazz raconteur Carl Jefferson held forth.
Jazz 101 was certainly over by the time Jason Moran and his trio Bandwagon (bassist Tarus Mateen and drummer Nasheet Waits) arrived to deliver sonic lessons on the music's history, at times playing along with timeless recordings by vocalese legend Eddie Jefferson and the inimitable Billie Holiday. A balance of sound might have given their performances added nuance, which they achieved with brilliance on Thelonious Monk's "Crepuscule with Nellie."
The trio's fascination with history was rewarding, much in the same way Revive Da Live, an ensemble of talented musicians including Marc Cary, Justin Brown, Ben Williams, Marcus Strickland, Jaleel Shaw, Corey King, Ingmar Thomas, dipped into the treasured past with their commissioned piece, "Charlie Parker Revisited." They established the tenor of the day, you might say, with a tasteful urgency, later given additional gravitas by brief remarks from Congressman Charles Rangel, Council Member Inez Dickens and State Sen. Bill Perkins.
But given the crowd's demographics and median age, most were probably saving their strongest anticipation for pianist-composer McCoy Tyner. He summoned the ghosts of quartets past, at times approximating the sweet resonance of Jimmy Garrison's bass, Elvin Jones' thunderous drums and the robust majesty of Coltrane's horn. After his highly improvised version of "I Should Care," Tyner told the audience that he cared, and they responded in kind.
If the festival gets any larger, they may have to close down Madison Avenue or set the farmers market vendors even farther away from the enticing sounds.