BITTER PILL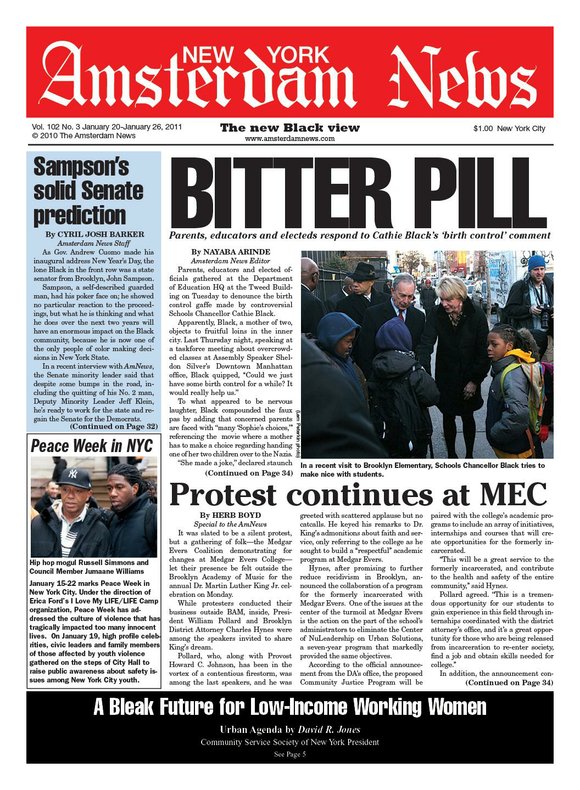 Parents, educators and elected officials gathered at the Department of Education HQ at the Tweed Building on Tuesday to denounce the birth control gaffe made by controversial Schools Chancellor Cathie Black.
Apparently, Black, a mother of two, objects to fruitful loins in the inner city. Last Thursday night, speaking at a taskforce meeting about overcrowded classes at Assembly Speaker Sheldon Silver's Downtown Manhattan office, Black quipped, "Could we just have some birth control for a while? It would really help us."
To what appeared to be nervous laughter, Black compounded the faux pas by adding that concerned parents are faced with "many 'Sophie's choices,'" referencing a movie where a mother has to make a choice regarding handing one of her two children over to the Nazis.
"She made a joke," declared staunch defenders like Mayor Michael Bloomberg, who aggressively ushered in the unqualified, waiver-requiring former chairwoman of Hearst Magazines into the position that heads the city's 1,700 schools, with their 1.1 million public school students.
Running interference on Tuesday at her first press conference since the comment, Bloomberg answered 13 of 15 questions asked of his schools chancellor, and then butted in again when she was asked about her birth control remark.
"Let me say it for her. Yes, she made a joke," Bloomberg insisted for the umpteenth time in the wake of this latest controversy. He had made the same defense after he was booed at the Rev. Al Sharpton's Dr. Martin Luther King Day celebration at the National Action Network on Monday.
As Bloomberg and Black held Tuesday's news conference at the Department of Education, regarding the city seeking $10 million to fund programs for students in need of additional tutoring, Bloomberg said, "She made a joke. Should she [have] made the joke? In retrospect, probably not."
Council Member Jumaane Williams called Black's comment "simply astounding. Given the history of government-sanctioned sterilization programs and medical experimentation on communities of color and the large numbers of students of color in the New York City school system, the statement shows an unacceptable level of insensitivity."
While the Department of Education did not respond to an AmNews request for comment, they did issue a statement last week saying, "Chancellor Black takes the issue of overcrowding very seriously, which is why she was engaged in a discussion with lower Manhattan parents on the subject. She regrets if she left a different impression by making an off-handed joke in the course of that conversation."
At a rally at the Tweed Building on Tuesday, Brooklyn Councilman Charles Barron wasn't buying it, "Once again she has shown that her inexperience and the fact that she is unqualified does not bode well for the public school students of this city. Bloomberg should admit that his choice was the wrong choice, and Cathie Black should resign immediately. Her comments are blatantly ignorant and racist."
Barron said, "Our children's future is not to be played with. A child dies in 'Sophie's Choice.' Those comments and references are no laughing matter."