BLOOMBERG BLASTED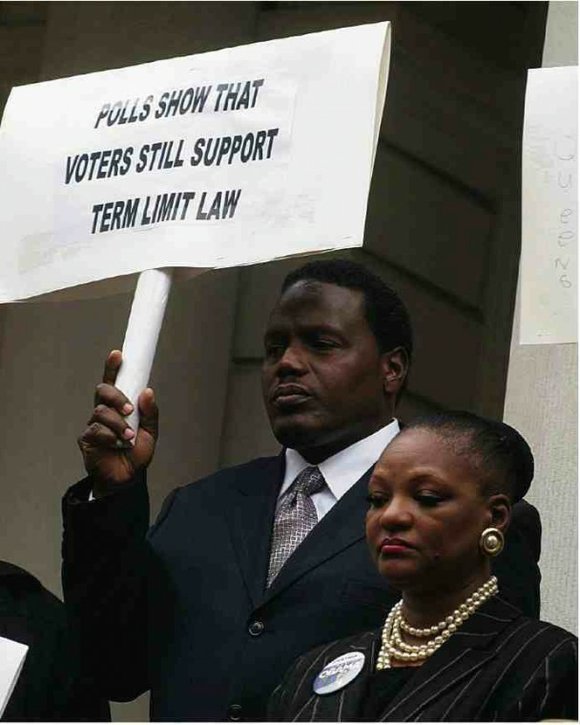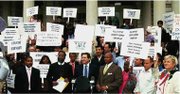 "This is not about how great a mayor Mike has been or could be. It's not about if you support term limits:
it's about upholding the fundamental basis of our law and democracy," Queens Councilmember John Liu told the Amsterdam News. "People voted for term limits twice in referendum, and if we are going to change it, it has to be done by another referendum." If Mayor Michael Bloomberg thought his casual declaration that he intended to overthrow city law and pursue a third term in office would be met with sycophantic applause or fawning gratitude, some gritty New Yorkers--elected and otherwise--had news for him.
From being declared a "Benevolent Dictator" by New York State Sen. Reverend Ruben Diaz to an "out-of-touch billionaire," by Councilman Charles Barron, Bloomberg is facing opposition that he might not have expected. On Tuesday, the mayor's office introduced legislation in an attempt to extend term limits to three consecutive four-year terms, as opposed to the current two four-year terms. The second act of this bawdy political theater was the introduction of an opposing bill demanding a springtime referendum of the voters. Meanwhile, New York State Assembly legislators are set to consider a proposal for a voter referendum. "No one man, no one woman, no one politician is bigger than democracy," said Assemb. Hakeem Jeffries, as he announced that he will introduce legislation in November to push for a special referendum on term limits next spring, whether Bloomberg's term limit bill passes or not. "We're concerned that the fix is in and that a deal has already been cut to change the term-limits law without public input," he said. Next Thursday and Friday, the City Council will hold public hearings on the term-limits legislation. "We should simply vote down his introduction to change the law through Simcha Felder's committee," said Barron. "We don't even have to go to referendum; the people have already said, 'No.'" Awkwardly citing the current economic crisis, which has been creeping up on the city for at least some of the years he has been in office, Bloomberg announced last Thursday that he is uniquely capable to wrangle the city from this bear of a problem. It seems that Bloomberg miscalculated the potential opposition to what has been slammed in some arenas as a "naked power grab." Illustrating that he is a highly favored member of the "Billionaire Boys Club," last week Bloomberg rode on a wave with the backing of fellow billionaire Ron Lauder, who put his monies behind the original motion for term limits. But this week, Lauder seemed to get cold feet when he stated that he's switching to the other side and pushing for term limits was not meant to include the permanent change for a mayor's office and City Council seats.
He wanted a one-time extension for the current administration. The grassroots people of New York balked at the semblance of an "arrogant" move to put personal ambition above the democracy of the city's constitution. But now, reports state that if Lauder stays clear of the whole political quagmire, he will find himself with a seat on a charter revision commission in 2010. Term limits will be a topic of debate once again. Politicians and everyday people alike are voicing opinions about the issue in this highly politicized moment in history. With the presidential campaign making pundits out of even the most disinterested, and with the economy tanking--or at least scrambling for a secure hold--the city and the nation is paying attention to what it is the city fathers are doing. "It is arrogant at the highest level that you believe that you're the only one that can keep us from getting out of this mess that we're in," said State Sen. Eric Adams. Number one mayoral cheer-leader and City Council Speaker Christine Quinn implied for days that she would announce her decision about Bloomberg's ambitious effort to remain in office four years after the "people" have twice deemed it undesirable. But on Tuesday, Quinn said that she had not yet made her decision, citing an "obligation to make sure I consult, get input from my colleagues." "We should not allow two billionaires to dictate laws in this city--that's up to the people," said Councilman Barron. "The people voted twice already, in 1993 and 1996,saying that they wanted term limits. In 1996 there was a push to extend it to three terms; the people said, 'No.' The masses have spoken." Councilmember Bill De Blasio said the action was an attack on the city charter and is strongly opposed to the move. Members of the City Council are split "right down the middle," he said. He decried Bloomberg's approach at a "constitutional change. "But it is, he added, "Not a slam dunk. More and more members are hearing from their constituents; you can't do this, four more years is not appropriate. Bring it back to us. The people will decide." Bloomberg told reporters, "We've started a lot of projects and would like to see them through. It's easy to cancel them in tough times, and I want to make sure we don't."