Bone marrow drives to save Jasmina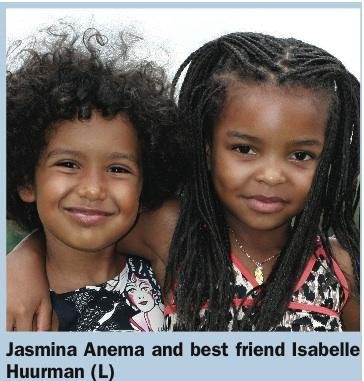 "Jasmina needs a bone marrow transplant immediately. We have held drives and the public response has been really great," said Karen Detrick of oneforjasmina.com. "But it won't be a total success until my daughter Isabelle is swabbing Oprah's cheeks on national TV for Jasmina!"
Detrick added, "I would hope that first lady Michelle Obama will get behind the cause of getting people to register to be a bone marrow donor. African-Americans are very much underrepresented, but across the board we need more donors. This is a cause that benefits all Americans of every ethnic group. I hope she will advocate for it because it seems like the sort of issue that she would get behind."
When the vibrancy and innocent expectation of a child is hit by a cruel and relentless illness, the milk of human kindness usually springs into action.
Such is the case for 6-year-old Jasmina Anema, who found out eight weeks ago that she has an aggressive form of leukemia and is in desperate need of a bone marrow transplant.
A few weeks ago, hundreds gave up part of their Saturday to attend a bone marrow drive in downtown Manhattan--this despite the climate of the dire social fallout from the economic crisis that is affecting most communities with a domino effect of unemployment, losing homes and/or personal stress. Nevertheless, folk of all ages, creeds and colors lined up to get their cheeks swabbed to try and save a bright and cheerful little girl, who is currently getting severe doses of chemotherapy while awaiting a bone marrow match. "The doses are near lethal, but they have to be that strong to treat the form of leukemia that she has," said Detrick.
Celebrities such as singers Rihanna, Kelly Rowland and Calvin Richardson and New York Knick Chris Wilcox have been moved by Jasmina's story. Images of her lying in the bed with tubes attached to her chest and the sparkle in her eye just a little less bright has moved thousands.
The "ONE for Jasmina" video plea is heart wrenching. Rihanna was the first celebrity to voice her support for the little girl, telling a tabloid magazine, "When I saw the video of Jasmina, it broke my heart. It is so unfair that for a Black patient it's so much harder to find a bone marrow match." Last month, Kelly Rowland surprised the bubbly kindergartner by visiting with her, surrounded by local and national media. "After spending time with Jasmina, I am personally committed to making sure everyone realizes the importance a simple wipe of a swab could be--it could save her life."
"The minute she laid her eyes on her, Kelly asked to get her cheek swabbed," said Detrick. Detrick told the AmNews that she and Jasmina's mother, Thea, have been friends since 2005, and their adopted daughters have been best friends since they were 2. Isabella is now 5 and a half, and misses her little playmate, who spends all of her days now at NYU Hospital. The aggressive rounds of chemo have assaulted Jasmina's immune system to the point that she is susceptible to absolutely any germ, so the kindergartener is pretty much in isolation.