B.O.R.N.'s Vintage Clothes on West 125th Street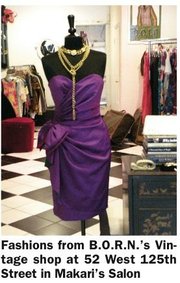 Vintage or not, B.O.R.N., the shop for you to stop in and look for your favorite look, just opened at 52 West 125th Street, in the back section of Makari's Makeup Salon. It's truly a one-stop-shop for fashion and makeup at its best.
B.O.R.N. (meaning Borrowed. Old. Refurbished. New.) is sure to become one of your favorite stores. Find old treasures and new ones, too. You'll love picking through top designer names like Gaultier, Christian Dior and Louis Vuitton in clothes that are hardly used.
However, it's for the fashion savvy shopper who knows a good deal when she sees it. Could that be you?
At B.O.R.N., there are many one-of-a-kind pieces, reworked gems and unexpected vintage looks that you can work to your advantage. The past decades are reborn for you with every-thing from hot pink florescent slashed '80s tees to mod '60s patent clutches. Pair your
handpicked rare vintage fashions with old and new accessories that were selected from all over the world. B.O.R.N.'s merchandise has been swapped out seasonally. The store is always up to the current trends. Generally, prices range from $10 for scarves to about $600 for furs.
Native New Yorker Jonathan Bodrick, a celebrity videographer, created B.O.R.N. It was one of his childhood dreams. Bodrick has been collecting vintage fashions since he was 9 years old. He attributes his fashion inspiration to his father and hanging out during the "punk" scene in East Village during the '80s."I take pride in dressing women and helping them find their inner beauty. My goal is to help women realize their potential and help them find their soul, almost like they are B.O.R.N. Again," said Bodrick.
His concept of being "B.O.R.N Again" stems from roots of being in Harlem. Being surrounded by Harlem landmarks, B.O.R.N. has its pulse on the soul and spiritual experience of Harlem's culture. Fans of the store include actress Anika Noni Rose ("Dreamgirls"), comedian Erica Ash ("Mad TV"), local socialites and the wives of prominent political leaders.
Today, Jonathan covers celebrity fashion and dresses the stars in luxury looks from his store. As a style expert, Jonathan is set on making B.O.R.N. a Harlem staple and your fashion destination. Store hours are Monday to Saturday, noon to 6:30 p.m., closed on
Sunday. Stop in and tell them you read about B.O.R.N. in the N.Y. Amsterdam News.