Brownstone Buddies bring us their entrepreneurial energy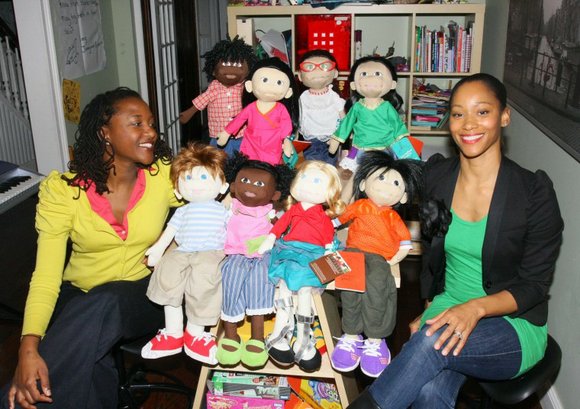 "We want to thank President Barack Obama for ushering in a new era of awareness of third culture kids, children representing different backgournds and joining them to create a celebration of new experiences," so declared Janai Nelson and Crystal Granderson-Reid, the creators of the unique dolls, the Brownstone Buddies.
It is beyond beautiful how these two Brooklyn-based moms have kicked their entrepreneurial spirits into gear, while raising their five children and still being involved wives to husbands with heavy careers.
Nelson's husband is Benjamin Talton, a professor of African history at Temple University, while Granderson-Reid is married to Kenyatta Reid, principal of Satellite 111, a Bedford-Stuyvesant junior high school.
Coincidently, the husbands have known each other for eons, while their wives just met 10 years ago, but you couldn't tell. These ladies act like they have been friends since kindergarten, finishing each others sentences, completing the other's thoughts and what not.
And not only do Nelson and Granderson-Reid's children play like siblings, their moms have built a burgeoning business by producing Brownstone Buddies, which have just been picked up by mega toy store FAO Schwartz.
The buddies are eight dolls from all over the world and each one comes with a passport and a story. For example, Ama, from the Gullah Islands, has a passion for numbers and a lineage that begins in Ghana; Veena has a grand passion for dance and is from India; Maricela is a Spanish-speaking bookworm with grandparents residing in Costa Rico; Ethan is a Trinidadian artisan with sculpture and all things artisan on his mind;Miko is an adventurer with travel on her mind with her Japanese American pops and Swiss mom; and Pippa is Irish American and British and loves anything musical and can play by ear.
Grounded children with a firm, strong sense of self can enjoy the diversity of the soft, cloth, 2-foot high dolls, say the proud co-founders of Brownstone Buddies.
"We do everything from stuffing the dolls to designing the clothes," say the pair, who incidentally call all the dolls by name, as if they are lovable grade schoolers over for a playdate.
"We don't mind learning," said Nelson. "Life-long learning--that's what we want to promote, because these dolls reach the earliest learners."
A Westchester native, Granderson-Reid has three girls, Selah, 8; Nala, 6; and Bailey, 4. A New York City girl, Nelson has a son, Kimathi, 6, and a girl, Nandi, who is 4.
Granderson-Reid, who has a background in PR and the modeling world, added that in targeting these early learners, "people start seeing each other for who they are, and at the end of the day, what it comes down to is how you affect other people. Through this brand they learn about other people and their cultures."
Nelson cites her prior career as a civil rights attorney before she went into teaching and notes that she has always been moved by the infamous Clark Doll Experiment (1939), the Black and white doll test. "It showed a disturbing lack of self-confidence," as so many Black children picked the white doll, she said. Brownstone Buddies were partly motivated by a desire to allow children to be "able to see reality affirming images of themselves."