Carlos Miele's dance dresses swing for spring '09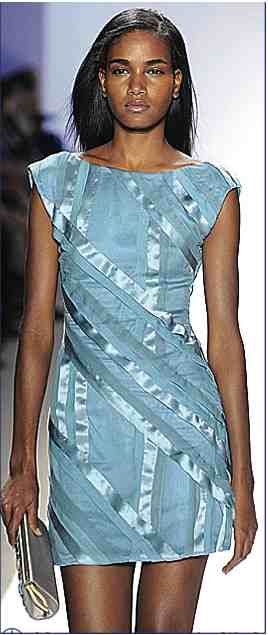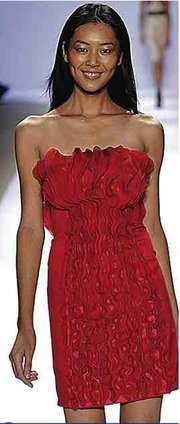 Carlos Miele opened his spring '09 fashion show at the Mercedes Benz Fashion Week Tent in Bryant Park in NYC with singer Seu Jorge. Stepping down the runway under a spotlight, he serenaded the audience with his salsa soul. His outstanding David Bowie renditions in "The Life Aquatic with Steve Zissou" from his solo album "Cru" (on Wrasse Records) set the mood for Miele's swinging salsa sensational show. For spring/summer '09, Miele's artistic collection was a dance between nature and the female body. This amazing designer loves architecture, art, and music.
His core influence, Brazilian landscape artist Roberto Burle Marx, led him to design his island hideaway in Florianopolis. It's a simply shaped house that fully blends in with the landscape. The inspiration for his spring/summer '09 collection came from the garden of the house and its natural diversity, combined with the designer's thoughts about the morphology of nature. His clothes bring to mind the movement of the leaves, the shadows of the native trees and flowers. The softness in some of his dresses flowed with lightness and reflection of water. Shapes are sleek and curvy. Colors are vibrant. Textures are rich like the rainforest. When it comes to his designs, Carlos Miele believes in mixing cultures. Part Italian, part Brazilian, the designer underlines the diversity that represents cities such as New York, Rio de Janeiro, and Paris. His collection is created for and influenced by cosmopolitan women who represent sophistication and independence. Miele's clothes are made to inspire and empower women. The music of Seu Jorge at Miele's show was reality at its best, and surprisingly special. Sagatiba Cachaca introduced him for an amazing runway performance. Jorge was once a homeless kid in a favela (Brazilian slum) outside of Rio de Janeiro. By the age of 10, Jorge was repairing tires to help support his family. "Getting out of a favela is a big deal," explained Jorge to The Independent(UK)."Gangsters are so powerful. Drug trafficking is life, and no one has jobs." Having spent years turning his energies to music and theater, Jorge landed the part of Knockout Ned in "City of God." It's the film that put an international spotlight on favela life, poverty and violence. This untainted street credibility shows through whether Jorge is on screen or stage. Seu Jorge has gained great exposure through his work as an actor and soundtrack composer. In the film "City of God," he played Mane Galinna, also known as "Knockout Ned" and then played Pele dos Santos in Wes Anderson's "The Life Aquatic with Steve Zissou." For this film, he provided much of the soundtrack in the form of Portuguese language cover versions of David Bowie classics. His last movie was "The Escapist," shot in Ireland with Brian Cox and Joseph Fiennes. His new album, "America Brasil," has a limited Brazilian release in 2007 under the label Cafune' Gravadora. GOOD SHOW! For more fashion and beauty news, go to www.atimetostyle.com.