Cathie Black opposition met with legal battles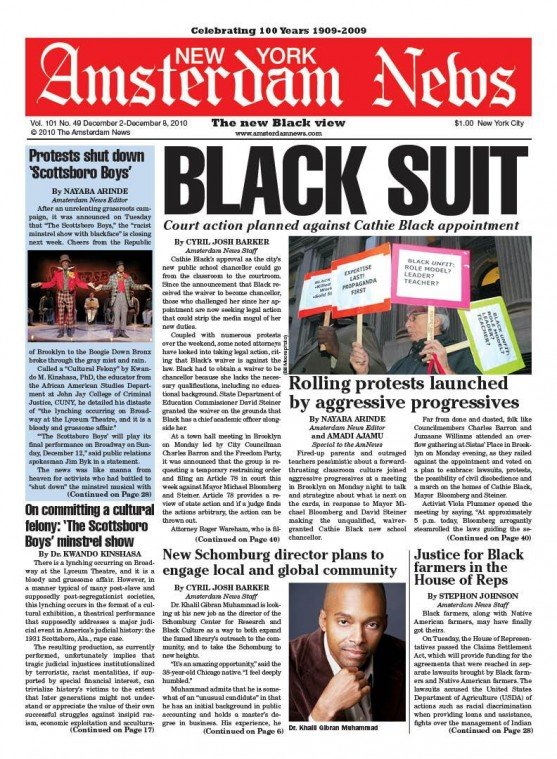 Cathie Black's approval as the city's new public school chancellor could go from the classroom to the courtroom. Since the announcement that Black received the waiver to become chancellor, those who challenged her since her appointment are now seeking legal action that could strip the media mogul of her new duties.
Coupled with numerous protests over the weekend, some noted attorneys have looked into taking legal action, citing that Black's waiver is against the law. Black had to obtain a waiver to be chancellor because she lacks the necessary qualifications, including no educational background. State Department of Education Commissioner David Steiner granted the waiver on the grounds that Black has a chief academic officer alongside her.
At a town hall meeting in Brooklyn on Monday led by City Councilman Charles Barron and the Freedom Party, it was announced that the group is requesting a temporary restraining order and filing an Article 78 in court this week against Mayor Michael Bloomberg and Steiner. Article 78 provides a review of state action and if a judge finds the actions arbitrary, the action can be thrown out.
Attorney Roger Wareham, who is filing the suit, said the goal is to start back at square one and have a legitimate search for a qualified chancellor.
"The concern is Bloomberg's relationship to the $23 billion budget," he said. "He's looking at the school budget and our children as vehicles of profit. We need to have a real search, not a Bloomberg-picks-one-of-his-cronies search."
City Councilman Jumaane Williams was also in attendance at the town hall meeting. Joining in with the majority of those who oppose Black's waiver and the legal fight to put her out, he said that Steiner ignored the roar of disapproval from local teachers, parents and even the advisory board who denied Black's waiver.
Williams said, "The needs of the people have been eluded and I believe that's a shame. I am disappointed by this decision. Managerial skills do not equate into a chancellor. If Ms. Black remains chancellor from the start of her term on January 1, 2011, I will encourage all to work with her for the success of our children. Until then, I hope to join in a lawsuit that questions the merits of this appointment."
A new association consisting of parents, educators and community leaders called the Deny Waiver Coalition has called on civil rights lawyer Norman Siegel to explore legal challenges to the actions of the state DOE commissioner. Siegel called Black's appointment a "horrible precedent."
"Are we going to appoint someone to be the head of the police department who has no law enforcement experience?" he asked. "Ms. Black appears to lack the educational credentials and qualifications to be the New York City chancellor. There appears to have been no process undertaken that accords with the principles and values associated with equal opportunity employment."