Chris Rock's 'Good Hair' shows the funny side of Black hair care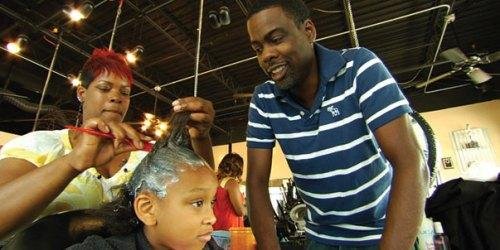 "Daddy, how come I don't have good hair?" That's the question that prompted Chris Rock to release his new documentary "Good Hair," a humorous look at the Black hair care industry that features a trip to India, an outrageous hair show and candid interviews with Black Hollywood, scientists and neighborhood hair salon/barbershop patrons. Rock, a married father of two little girls, was asked about good hair by his oldest daughter, Lola, who was just 5 years old at the time. Surprised by such a question because he tells his daughters they are beautiful every single day, Rock decided to explore how his princess could have gotten such an idea.
Most Black folks are already familiar with the topics Rock brings up in the movie. We know that chemical relaxers burn. We know that there are various ways to attach a weave to a person's head. We know that India supplies a lot of hair for weaves. Clearly, Rock is going for a wider audience than just the Black community. However, even the most loyal Black hair salon customer will learn a thing or two from this documentary.
For example, did you know that sodium hydroxide (the active ingredient in chemical relaxers) can dissolve an aluminum can in just a few hours when it's in its purest form? You know that a lot of human hair weaves come from India, but you probably didn't know that the hair comes from religious ceremonies held at temples. The people whose hair helps to fuel the $9 billion hair industry shave their heads as a sacrifice to God. According to Rock, they have no idea that their hair is eventually attached to the heads of "lawyers, doctors and strippers" on the other side of the world. The fact that such a pious, selfless act is the backbone of a multi-billion dollar vanity industry is ironic to say the least.
During a roundtable discussion with New York journalists, actress Nia Long admitted that finding out where the hair comes from had an impact on her. "To actually to see culturally what was going on, [it] made me feel guilty. We're doing this for vanity and these women are doing this for a religious sacrifice. That's just so extreme," said Long, who has had a range of hairstyles throughout her career, from pixie cuts to long, wavy hair.
Rock spends the majority of the film showing the lengths some Black women go to in order to have long, straight hair. He gets candid (and often hilarious) feedback from a wide range of Black celebrities, including Vanessa Bell Calloway, Ice-T, Eve, the Rev. Al Sharpton and Lauren London.
Tracie Thoms, an actress who wears her hair in twists and is one of the few women in the film without a weave or chemical relaxer, raises an interesting point. "To keep my hair the same texture as it grows out of my head is considered revolutionary. Why is that?" asks Thoms. Rock never really answers that question. He almost gets there when he goes around to beauty supply stores with Afro wigs and is summarily dismissed at every turn. No one is interested in purchasing kinky, curly hair that doesn't flow with the wind. Their customers prefer Indian hair.