Chris Rock's 'Good Hair' shows the funny side of Black hair care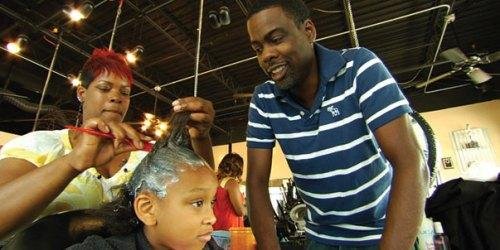 Rock told the New York journalists' roundtable that he did not want to make a movie that was too laden with historical facts. "I didn't want to do a historical thing. Soledad O'Brien and all those guys can rock that out and show the history of Black hair and talk about Madam C.J. Walker and other people. That's great stuff, but I just didn't want to do that. I wanted it to be in a movie theater, so it needed to be more entertaining and contemporary," said Rock. Even with the goal of balancing humor with interesting facts, Rock had to make painful cuts to the film. A roundtable discussion with Los Angeles men who wear Jheri curls unfortunately didn't make the cut.
While not a hard-hitting expose on the Black hair industry and the centuries worth of reasons that the term "good hair" exists, Rock's film is funny, entertaining and, in some ways, enlightening. Some people will learn more than others. For those not at all familiar with Black hair, they could come away from the movie with the impression that most Black women wear weaves ($1,000 weaves at that) and have relaxers. The film does not show the diversity within natural Black hair; the different textures, lengths and colors that appear without the aid of weaves or chemicals. Still, "Good Hair" is a film filled with laughter and the faces and voices of Black celebrities that we do not get to see often enough on the big screen.
Poet and author Maya Angelou (who got her first relaxer at 70 years old) is the person in the film who truly answers the question posed by Rock's daughter. "If the hair is on your head, it's good. If it's growing between your toes, then it's probably bad."
"Good Hair" will be in theaters in New York October 9.