Civil and human rights icon Dr. Dorothy I. Height passes at 98
Herb Boyd | 4/12/2011, 5:25 p.m.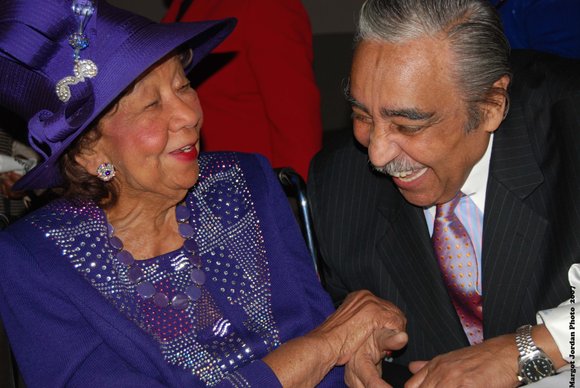 Very early in life, Dr. Dorothy I. Height had a number of career options, but she chose to serve humanity, and that service was as long as it was relentless. Height, 98, a civil rights icon, died Tuesday morning at the Howard University Hospital in Washington, D.C.
Height had been hospitalized for nearly a month, according to her nephew, Daniel Aldridge of Detroit. "She died peacefully," he said.
To recount Height's remarkable sojourn of more than 80 years is to survey the milestones of American history in the 20th century. From her teen years, coming of age in Pennsylvania, Height was a foe of injustice, working tirelessly on campaigns to end lynching.
"She was the godmother of the Civil Rights Movement," said President Obama, "and a hero to so many Americans."
During an interview on WBAI-FM with Esther Armah, Aldridge put his aunt's great life in both a personal and political perspective. "While it's true she was a strong advocate of race and gender issues, her main concern was the fight for human rights," he said. "As my aunt, she was always generous and considerate of who I was as a person, not just a relative. Her policy was to treat everybody with love and respect."
That love and respect is being returned endlessly, as dignitaries and the common folk she loved inundate the family with their condolences and warm regards for what she meant in her dedication to social justice.
"Dr. Dorothy Irene Height was a founding matriarch of the Civil Rights Movement and an outspoken advocate for gender equality," said Evelyn Gibson Lowery, a civil rights veteran and founder of the SCLC/WOMEN Inc. and the wife of Rev. Dr. Joseph Lowery. "Height worked tirelessly until her last days, advocating on behalf of women, African-Americans and underprivileged people throughout the world. She was a shining example of womanhood and her courage, intelligence and quick wit will be missed. Our prayers go out to her family and the NCNW family."
The NCNW (National Council of Negro Women) is perhaps the place where Height's legacy resonates strongest. For 50 years, Height was the president and chair of the organization, dutifully extending the impact and legacy established by its founder, Mary McLeod Bethune.
In fact, it was Bethune who recruited Height to the NCNW after noticing the poise and elegance in the way she escorted Eleanor Roosevelt to one of the Council's annual meetings. That was in 1937, two years after the founding of the organization to which Height would attach her name with profound success and accomplishments.
Height was born March 24, 1912, in Richmond, Va., and educated in Rankin, Pa., near Pittsburgh, according to her nephew and the NCNW website.
From the moment she stepped into a classroom, she excelled. Her oratorical skills won her lasting recognition and scholarships, including one to New York University, from which she subsequently earned her bachelor's and master's degrees, after being rejected by Barnard College, which said it had met its quota of African-American students. This matriculation was followed by postgraduate courses at Columbia University and the New York School of Social Work.