Civil and human rights icon Dr. Dorothy I. Height passes at 98
Herb Boyd | 4/12/2011, 5:25 p.m.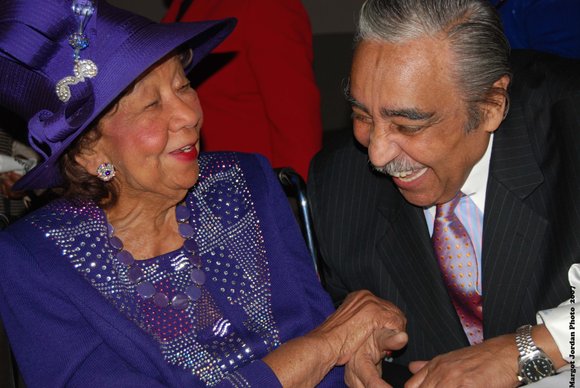 In a recorded interview aired on WBAI Wednesday morning, Height recalled her first days of activism as a member of the United Christian Youth Movement of North America during the early 1930s. At this momentous stage, her participation in the Civil Rights Movement was launched, she said, and in rapid succession, she was on the ramparts against lynching and working for the desegregation of the armed forces, reform of the criminal justice system and free access to public accommodations.
And these were just a few of the social issues that occupied most of the hours of her youth, Gov. David Paterson observed. "Having borne witness to discrimination, Dr. Height committed to eradicating intolerance--whether it be against a race, ethnicity, gender or religion," he said in press statement. "She marched with those tired of violence, stood with those ready for change and served for four decades as the leader of the National Council of Negro Women. Her work, which continued well beyond her retirement, has helped make for a more just society."
Many elderly Harlemites fondly remember Height when she lived and worked among them, particularly during her tenure at the YWCA and her appointment by Mayor Fiorello La Guardia to a commission to assess the tragic riot of 1935 that left Harlem in shambles.
By the early 1950s, Height's involvement in international affairs via the YWCA took her around the globe with teaching assignments in India, Burma and Ceylon. There were also important consultations in Africa where women were given lessons in self-determination and empowerment.
In 1956, after serving for nearly a decade as national president of the Delta Sigma Theta Society, Height was elected the fourth national president of the NCNW. From this position, she gradually acquired the visibility and the prestige that would place her among the ranking Black leaders in the country. At a time during the Civil Rights Movement when the Big Six included Roy Wilkins of the NAACP; James Farmer of CORE; Whitney Young of NUL; John Lewis of SNCC; A. Philip Randolph of the AFL-CIO; and Dr. Martin Luther King Jr., Height was often quietly acknowledged as the "seventh member."
Never one to bite her tongue, Height expressed her concern that women did not speak from the podium during the historic March on Washington in 1963. "The only woman you heard was the singer Mahalia Jackson," she lamented.
During the struggle against Apartheid in South Africa, she was an uncompromising foe, traveling there on many occasions to lecture and for conferences of African women.
Among the many organizations that she founded and where she served was the Black Women's Roundtable, in association with Melanie Campbell.
"I feel blessed and honored to have been mentored by Dr. Height working with her in recent years on the Black Women's Roundtable with an intergenerational network of women to promote the empowerment of women and girls," said Campbell.
"Dr. Height taught us that we must be organized and stay focused on the work, and that we are more powerful working together in unity and that 'unity does not mean uniformity,'" added Campbell, who is also executive director and CEO of the National Coalition on Black Civic Participation.