Comrie, HAUP to Lead Southeast Queens Relief Drive for Victims of Haitian Earthquake
4/12/2011, 5:24 p.m.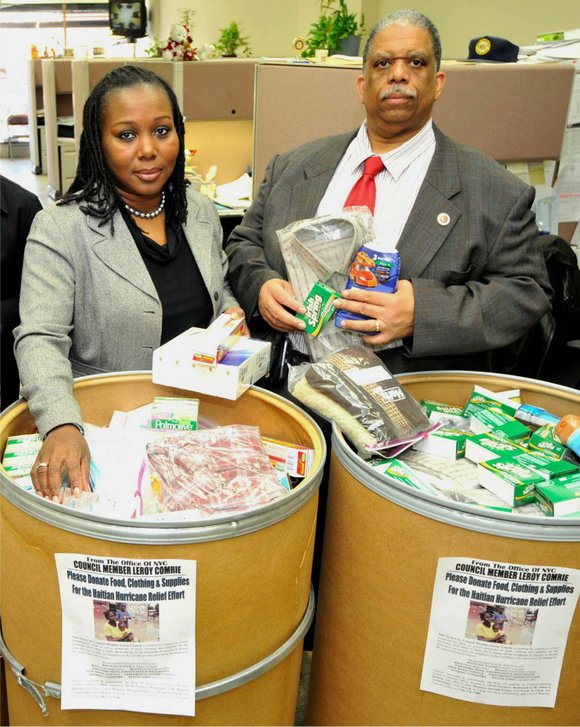 Comrie, HAUP to Lead Southeast Queens Relief Drive for Victims of Haitian Earthquake
ST. ALBANS, NY- In the aftermath of the tragic earthquake in Haiti , New York City Council Deputy Majority Leader Leroy Comrie announced today that his office will collaborate with Haitian Americans United for Progress (HAUP) to coordinate local relief efforts in the Southeast Queens community. They are urging all residents of goodwill to consider donating supplies for the upcoming citywide relief effort that will take place to assist the victims of this disaster.
"Foremost, I want to extend my condolences to the Haitian American community," stated Council Member Comrie. "Tuesday's horrific event has devastated their entire community as they desperately try to reach loved ones in their homeland. During times like this, it is important that our community come together to support each other. I am humbly asking all my Queens neighbors and people of goodwill across the city to make a financial donation at this time to the Red Cross. We certainly live in tough economic times, but we are also citizens of the world and, collectively if each of us make a small contribution, we will be able to help our Haitian neighbors who have been devastated by this tragedy.
"Already my office has received numerous phone calls from Southeast Queens residents looking to open their hearts and wallets to assist our brothers and sisters in the Caribbean . It is why I have reached out to HAUP to begin to coordinating a local relief effort drive. Already local shipping companies have agreed to donate barrels to my office, which will be used to ship donated supplies once citywide and national relief coordination has begun. We are urging everyone to wait until the relief effort is coordinated before they begin donating supplies. Anyone who is interested in donating supplies can call my office at (718) 776-3700 to sign up and will be called once the local relief effort is underway."
"I want to thank Council Member Comrie for supporting our efforts," stated HAUP executive director Elsie St. Louis Accilien. "We needed strong voices like his to deliver the message that dire suffering is taking place now in Haiti and we must answer the humanitarian call to help them."
HAUP is a not-for-profit community based organization that helps low-income families and individuals to live healthy and productive lives. HAUP was initially founded in 1975 to promote the welfare of Haitian refugees and immigrants. Since its founding in 1975 it has broadened its cope and reach to meet the needs of all its constituents regardless of nationality, ethnic origin or background. Their offices are located in Cambria Heights , which has a large Haitian American community.
In addition to the relief effort, Council Member Comrie also called upon Congress to immediately fast-track legislation that would grant temporary protected status to Haitian nationals in our country. Known as H.R. 144 and introduced by Rep. Alcee Hastings of Florida , it would require the Secretary of Homeland Security to designate Haiti as a country whose qualifying nationals may be eligible for temporary protected status under section 244 of the Immigration and Nationality Act. It would provide for: (1) an initial 18-month designation period; and (2) authorization for temporary travel abroad.
"In the aftermath of this international tragedy, it makes little sense for our government to still be in the business of deporting Haitian nationals. To send any human being into that situation, where this little governmental infrastructure or social services, would simply be inhumane. It is my hope that President Obama and our congressional leaders will see fit to address this matter with all deliberate speed."