'CRUSHED HEARTS'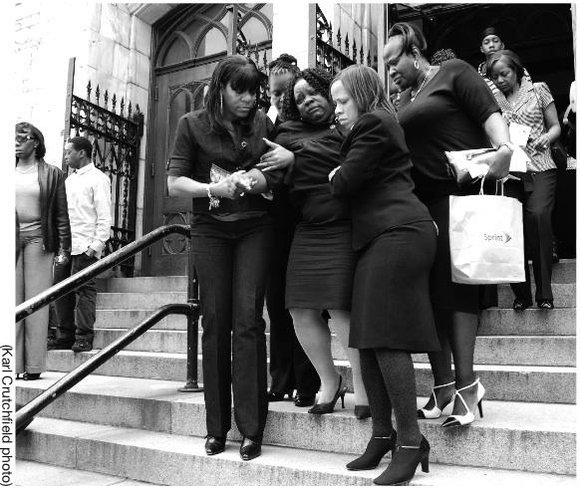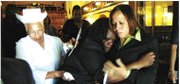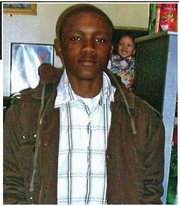 It is possible that there was never such a heart wrenching wail heard from a grieving mother as when Gail Owens looked upon the body of her 13-year-old son in his casket on Monday morning. It was like the walls of Harlem's Convent Baptist Church literally shook. Grown men took repeated audible deep breaths to keep from crying out, and so many mothers just cried in each other's arms.
It was horrendous. Shooting victim Christopher Owens' classmates and friends were just bewildered and temporarily immobilized by the pain of the loss of this young man. Devastated young males wept openly, and young girls comforted each other. Others just sat with their heads in their hands.
"You don't just kill a man, you destroy a family!" said rapper T.I., as he attended Rev. Al Sharpton's National Action Network anti-violence rally on Monday afternoon at the House of Justice. On stage with him was Melinda Chrinos, the mother of Corey Squire, the young man who was shot in the back of the head on surveillance video. That 17-year-old is to be buried on Friday 9:30 a.m. at First Avenue Funeral Home. Owens, a student at the Academy for Collaborative Education, was hit in the head by a stray bullet at a Harlem barbecue on Sunday, May 3. "Booba," as he was affectionately known, would have been 14 in August.
"I don't want this to happen to any other kid," said Christopher Foye, as he stood at the pulpit, looking over the body of his son, Christopher Shakim Owens. And speaking specifically to the youth, he noted, "I don't see any gangsters here...I see good people." Foley told the AmNews, "Kids are following this 'G' code--but they are not gangsters. They are being influenced and manipulated by TV and movies. They think they have to live by this code when they don't. 'Stop snitching'-- that rule applies to gangsters, not to people who hurt 88-year-old grandmothers or children or molest little kids.
"My son wasn't a criminal; he was a good kid. This dude who killed my son is a coward. The rules were already broken when he shot into the crowd, so this 'stop snitching' stuff doesn't apply. He already crossed the line. We've got to be able to check the negative stuff around us."
When Gail Owens spoke, the room held its collective breath. Addressing particularly the hundred or so young people with their school principal and school administrators, she said that "this is the end result" of not following curfew. Speaking to the AmNews later, she said of the youth, "They've got to stay in school. They've got to go to college. They've got to listen to their parents and follow curfew. Had Chris stuck to his curfew, he'd still be alive. But, it was a hot day, everybody was out having fun, he wanted to stay out late. He didn't know it would cost him his life."