'CRUSHED HEARTS'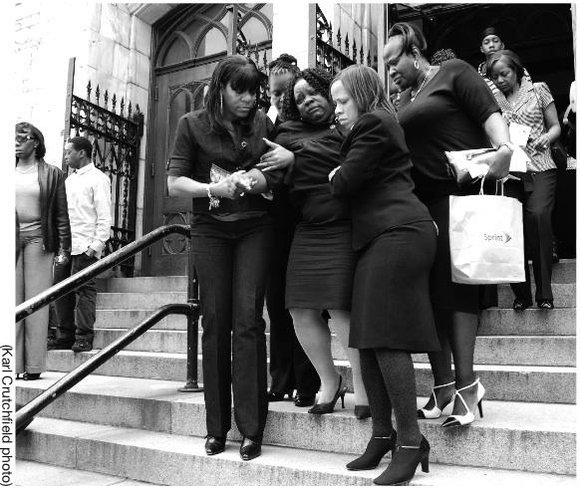 Wanting closure in her child's murder, Owens said, "They've got this code of silence, but they've got to stop that."
The mother of three college graduates pleaded, "If you know who did it, say something. They said a grown man was shooting into the crowd. "To the killer [who shot my son],if you have a conscience, I say, 'Turn yourself in.' I know he can't sleep. I know he can't eat. My son had a promising future ahead of him and he took it away from him." Christopher Foye told the paper, "We are trying to find out what happened to my son. I want the guy to turn himself in. This was a cowardly act. My son was a good kid. I am starting a foundation in my son's name, for kids in the neighborhood, to help with financial literacy and education. And Chris loved basketball, so I want to set up a foundation that benefits kids."
At Convent Baptist Church, some of the young people who spoke to the AmNews, but didn't want to go on record, did speak about their love for their friend and their incredible pain.
The face of Chris Shakim Owens looked solemnly from T- shirts and laminated photos hanging around the necks of dozens and dozens of children, many of who had attended the wake at Unity Funeral Chapel the previous day.
"They're not ready to speak about it because it is so tragic," said Foye. "People will open up as time goes by. My overall objective is to get legislation that if people shoot recklessly and someone gets hit as the bullet travels, then they should get a mandatory 25-to-life. I want to work with any elected official who will help me with the Chris Owens Bill."
The obituary said that Chris was "a good listener and delightfully polite. He loved his home and spending time with his family. A gentleman and a scholar, a son any parent would have been proud to have."
The Federation Multi-Cultural Programs Inc., Councilman Charles Barron and attorney Natasha Riley said that they would all establish scholarships in Chris Owens' name. "He is with the leadership, with Dr. Martin Luther King, with Malcolm X, with Marcus Garvey. He is the clarion call," Rev. Booker T. Morgan told the church. Looking over the weeping congregation, the reverend said, "Crushed hearts [notwithstanding], in the midst of this tragedy, in the midst of this pain...God loves us."
Pastor Vernon Williams from Perfect Peace Ministry asked all the men to stand up as he said, "I pray [that] we as men start doing the right thing" so that mothers do not have to suffer such pain. Kiandre Porter said he lived on the same street as Chris and went to the same school until junior high. "It hurts that he would really leave like this, especially when nobody knows who [did it] and it was probably over something stupid," he told the AmNews. "Why would you shoot into a crowd...full of kids on top of that?