Eddie Ellis: 'Prison Reform' is his middle name
DAVID KENE | 4/12/2011, 4:40 p.m.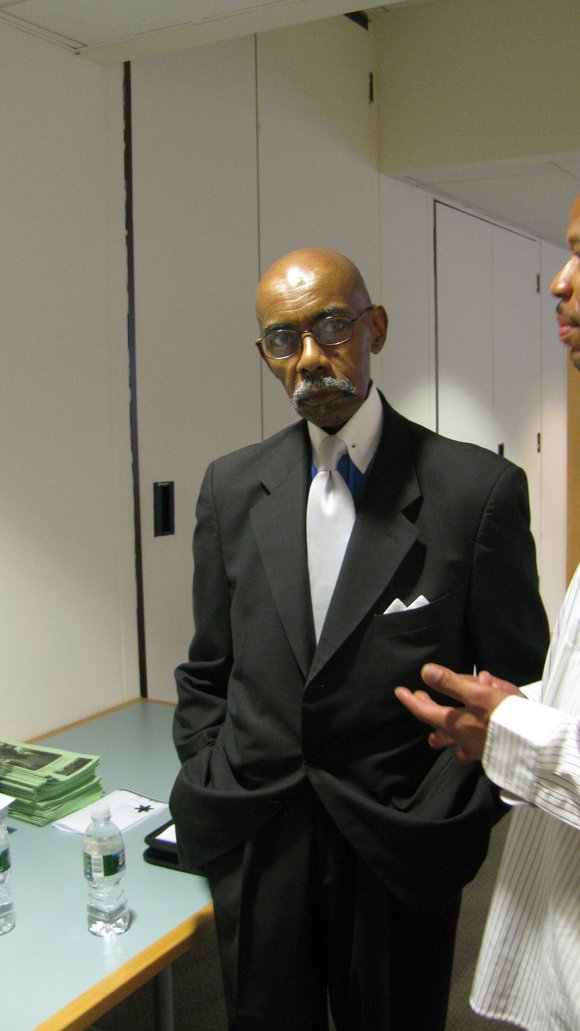 Eddie Ellis has a powerful story. He is a: former Black Panther spokesman, previously incarcerated, a post-graduate and teacher, a public radio host and prison reform activist.
In New York City's who's who list on prison reform, few names top Eddie Ellis. And none overshadow it. It's the name of a man who is practically synonymous with prison reform.
After serving 25 years in prison, being one of the last people to remain in Attica after its famed rebellion and earning his undergraduate degree behind bars, Ellis is considered by many professionals and advocates working in and out of the New York criminal justice system as a rare, credible and legitimate appraiser of its dollar-for-dollar value.
In this capacity, back in 1979, Ellis was one of a small group of men who, behind prison walls, birthed the Seven Neighborhood Study, a project that shone a spotlight on a secret yet systematic exodus-like trend occurring in seven NYC neighborhoods to upstate New York prisons to feed its prison population appetite.
"The study began as a think tank, said Ellis. "Nine to 10 guys use to meet regularly trying to make sense of the prison experience. Why are we here? Where did we come from? Where are we going? Where are we going when we get out? These were the kinds of questions we asked. Before us, no one asked these questions on a collective basis."
Ellis continues: "Back then, there were about 11,000 people in about 10 or 11 prisons. I had been in one-third of them. Like me, people inside seemed to know each other. The study was to quantify what we knew-- that places like Bed-Stuy, Harlem, East New York, South Jamaica and the Lower East Side accounted for three-fourths of the prison population."
It was innovative, investigative and a first in state history. On a national landscape, the study was a pioneer to link American crime with poverty.
"In 1979, we first published the study that crime and poverty were linked, that in order to combat crime, you had to combat poverty. At the time, nobody was talking like that," said Ellis. "The prevailing thought was individual responsibility and action. In the 1990s, sociologists began to make the link. We were 20 years ahead of our time."
Other efforts--such as the innovative e-mail blast in 2002 that made popular the term "formerly incarcerated person" in order to dissuade the use of terms like criminal, convict and offender--have established Ellis as an influential thought leader in his field. He's spent the last 25 years of his life thinking and shaping his thoughts on prison reform, so his emergence as such a leader is of little surprise. As a formerly incarcerated person, post-graduate theologian, former director of the Prison Metro Ministry at the Riverside Church, and current director and teacher of courses at Medgar Evers College, Ellis embodies ideas and strategies not only ahead of the curve, but also out of the box, and often times beyond the scope of political will.
Yet, state and city officials like former Gov. Eliot Spitzer, former U.S. President George W. Bush's domestic policy advisor and Black and Latino Caucus members in the tristate area continue to tap Ellis for his expertise to serve in consultant and advisory roles.
Yet, it's not in academia, City Hall or Albany, where Ellis makes his influence widespread. It's on the airwaves. Ellis, 67, is perhaps most famous for his distinctive, throaty voice every Saturday mid-afternoon on "On The Count," a popular weekly radio show on WBAI that prides itself on being the city's only show about, for and produced by people who were formerly incarcerated.
Speaking about "On the Count," Ellis said: "To use Mumia's term, it's the voice of the voiceless. We're in the No. 1 media market of the world where, up until the advent of our show, formerly incarcerated people were voiceless. I think that is the importance of it. We know about as much as anybody about criminal justice issues."