Famed dancer, actress and singer Eartha Kitt dies at 81
Herb Boyd | 4/12/2011, 4:34 p.m.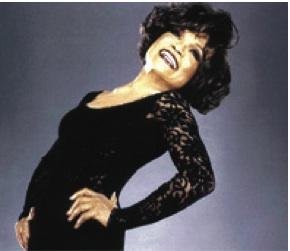 Like the translation to one of her most popular tunes, "C'est Si Bon," Eartha Kitt, the singer, actress, and dancer, was so good. Whether cooing in her inimitable sultry style or slithering seductively across the stage, Kitt was as energetic as she was fetching. Kitt, 81, succumbed to colon cancer on Christmas Day. The cancer, according to her long-time friend and publicist, Andrew Freedman, was detected two years ago and treated but recurred after a period of remission. Being in remission, however, was never a condition of Kitt's long and productive career that began as a dancer when, as a teenager, she won an audition with the Katherine Dunham Dance Troupe. In 1948, the troupe was featured in the movie "Casbah," and Kitt shared the spotlight with Dunham in several scenes. It was while on an extended European tour with Dunham's troupe that Kitt began studying languages, particularly French. She was rather fluent in four languages and sang in seven. Film director Orson Welles was at one of her performances and cast her as Helen of Troy in one of his productions.
Back in New York, Kitt gained wider recognition for her showstopping performance in the musical revue "New Faces of 1952."She also starred in the feature film based on the revue. A year later, she made her debut as a singer, recording "Santa Baby," which earned her a gold record. Since her death, the video of that performance with her draped in only a mink coat has received thousands of views on YouTube. The facts of her early life are sketchy, but it is believed she was born on Jan.17,1927, in North, S.C., as Eartha Mae Keith-Fields. Her mother, it has been reported, was a laborer on a plantation and of mixed Black and Cherokee descent. Her father was white and said to be the son of the plantation owner. Before she was 10,Kitt had been sent twice to live with other relatives, including an aunt in Harlem. Her natural abilities to sing and dance earned her acceptance into New York City's High School of Performing Arts.
Kitt received her first Tony nomination in 1955 after her smashing success as a singer, most notably with "C'est Si Bon" in 954.Two years later, following several major television appearances, she wrote "Thursday's Child," the first of three autobiographies. Then came a succession of film roles with Sidney Poitier in "Mark of the Hawk," with Nat ''King" Cole in "St. Louis Blues," and with Sammy Davis Jr. in "Anna Lucasta"in 1959. She was the target of calumny from the American government for her stance against the war in Vietnam in the '60s. Kitt's most memorable moment on this issue occurred at the White House when she spoke directly with Lady Bird Johnson about her disfavor of the administration's war policy. This outspoken opposition to the war brought her into the crosshairs of the FBI and the CIA.
During the civil rights movement, Kitt vowed not to perform before a segregated audience, though later she would travel to South Africa, which was against the wishes of the anti-apartheid movement. She justified her appearance there in 1974 on the grounds of raising money to support the movement, raising racial consciousness and contributing funds to the building of schools in South Africa. In 1978, she was back on Broadway as alluring as ever in the musical "Timbuktu!" directed by Geoffrey Holder and for which fashion designer Elaine Baskin Bey worked with Kitt. "I have always marveled at her bravery," Baskin Bey said. "She was a most remarkable entertainer and human being."