Finally--Cuomo announces
Herb Boyd | 4/12/2011, 5:27 p.m.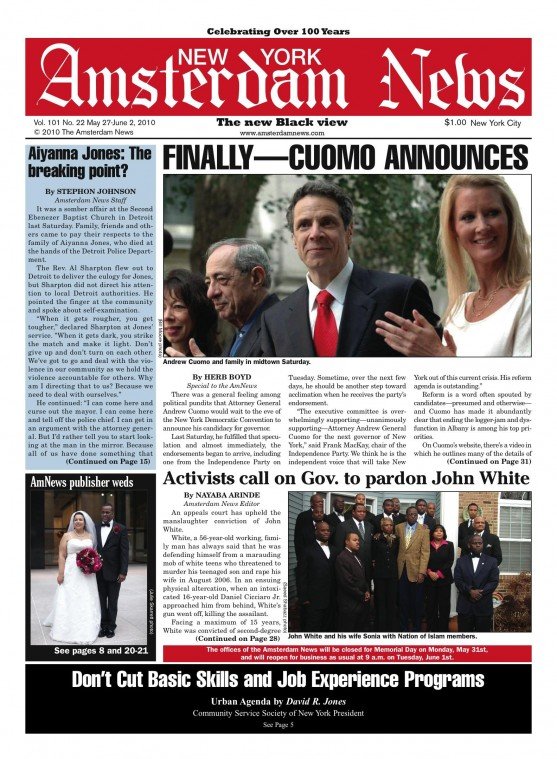 There was a general feeling among political pundits that Attorney General Andrew Cuomo would wait to the eve of the New York Democratic Convention to announce his candidacy for governor.
Last Saturday, he fulfilled that speculation and almost immediately, the endorsements began to arrive, including one from the Independence Party on Tuesday. Sometime, over the next few days, he should be another step toward acclimation when he receives the party's endorsement.
"The executive committee is overwhelmingly supporting--unanimously supporting--Attorney Andrew General Cuomo for the next governor of New York," said Frank Mackay, chair of the Independence Party. "We think he is the independent voice that will take New York out of this current crisis. His reform agenda is outstanding."
Reform is a word often spouted by candidates--presumed and otherwise--and Cuomo has made it abundantly clear that ending the logger-jam and dysfunction in Albany is among his top priorities.
On Cuomo's website, there's a video in which he outlines many of the details of his 250-page reform package.
"Our state government in Albany is disreputable and discredited," Cuomo said. "New York State is upside down and backwards; high taxes and low performance. The New York State government was at one time a national model. Now, unfortunately, it's a national disgrace. Sometimes, the corruption in Albany could even make Boss Tweed blush."
Boss Tweed, the infamous Tammany Hall leader of yore, was clearly on Cuomo's mind since he used the Tweed Building on Chambers Street as the backdrop for his announcement.
Financial reform was also a key issue as he prepares to take office long before the "day one" promises made by Eliot Spitzer in 2006. "Reckless bankers exploit the economy, and working families are paying the price. Now, Wall Street gets bonuses and taxpayers get the bill. It's just not right and it's not fair. To make matters worse, Manhattan's Wall Street debacle is matched only by Albany's State Street debacle," Cuomo asserted.
Any mention of Albany and its blundering invokes the dilemma of the current governor, and David Paterson, as expected, has thrown his support behind his attorney general.
As to Cuomo's choice for running mate, that remains undecided, though there is speculation he would do well to select someone from upstate. Mayor Byron Brown of Buffalo is one name being floated, and he, as well as, Shirley Ann Jackson, president of Rensselaer Polytechnic Institute in Troy, would be appealing geographically and from a race standpoint. Jackson would also add the gender advantage, though she lacks political experience.
Cuomo's only real opponent at this stage is himself. The debacles eight years ago in his primary run against Carl McCall and his divorce seem to be matters of the distant past for voters, and the only thing stopping his coronation is a slip of the lip or a shot in the foot.
Moreover, he carries the baggage left by his father, Mario Cuomo, who was governor from 1983 to 1994 and depending on who you talk to, progressive and productive, or merely adequate. His opposition to the death penalty and his pro-choice position on abortion are what most voters remember about his three terms in office.
It will be interesting to see how Cuomo reconciles his insider status with his insurgent rhetoric. But anyone with a plan to reform Albany will probably be given the benefit of the doubt until ensconced in the governor's seat.
Already he has denounced Lt. Governor Richard Ravitch's plan of borrowing money to close the state's more than $9 billion deficit, and he promises to reduce the state's more than 1,000 agencies.
Several of his other anticipated moves on saving taxpayers money, transparency and accountability should resonate well with an electorate always on the short end of the economic packages.
The convention will also determine who will replace Cuomo as attorney general. At the moment, there are five candidates set to run, and there is speculation that Cuomo favors Kathleen Rice of Nassau County. If he is victorious over Rick Lazio--the presumed Republican nominee--Cuomo would have one vital piece in place as he takes office.