Four steps for glamour girl curls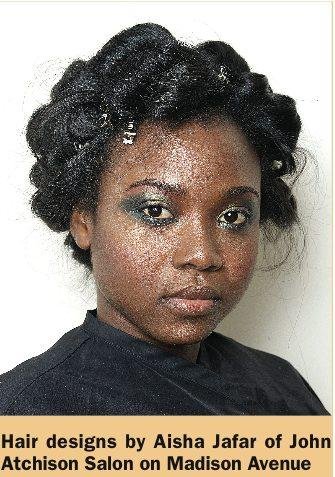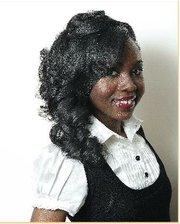 The look is curly, especially if you have long hair. Discover a fresh take on curls. They are perfectly imperfect. After you've visited your favorite salon for your perm, color and conditioning, curls are easy to maintain at home. You can create them yourself. From the runway to red carpet or from the office to a date, it's the hairstyle of the season.
Remember when you were a little girl and your mom used to straighten your hair with the hot comb? For curls, she would part hair in sections and wrap it up with brown paper bag strips. Sometimes she wrapped your hair around her finger and held it down with bobby pins. These days,there are rollers, even electric rollers and curling irons. At John Atchison's Salon on Madison Avenue, hair stylist Aisha Jafar styles Jev-vern Jack's long hair in four steps.
First step: She applies John Atchison Shine Drops,a silicon-based serum, on Jev-vern's hair before blow drying it.
Second step: With a 1-inch diameter curling iron, she creates barrel curls.
Third step: Aisha secures each curl with a curl clip and bobby pin. Jev-vern's hair is combed out in a classic style.
Fourth step: For a wild mane shakeout, Aisha curls and lifts hair with her fingers. "When you are styling your hair, use a wax-based product like KeraCare Styling Wax Stick for control and definitions," advised Aisha Jafar. These featured products are available at John Atchison's Madison Avenue Salon, along with a professional staff and great services.
For longer hair, Nexxus shows a fresh take on curls that's perfect for special occasions. With Gorgeous Curls Curl-Enhancing Foam Styler, create the separated curl hairstyle that's touchable and light.
Step one: After shampooing your hair and conditioning it with Nexxus Therappe Luxury Shampoo and Humectress Ultimate Moisturizing Conditioner, work Nexxus Gorgeous Curls Curl-Enhancing Foam Styler through damp hair. It will define curls and build volume.
Step two: Using a blow dryer and diffuser attachment, dry your hair from underneath. As you dry, gently squeeze hair with your hands to build curl fullness.
Step three: When your hair is completely dry, use a curling iron throughout the entire lower section to create loose curls. For a soft, natural look, pull them apart with your fingers.
Step four: Create a side part and use a round brush to smooth hair from roots to the ears, then pin the front sections into place behind each ear. Mist all over with 360 Degree Volume Volumizing Design and Finishing Mist to hold the finished style. If you're traveling to warmer, summer climates, your longer hairstyles need nurturing. Start with shampoos and conditioners that strengthen, soften and smooth your hair. Speak with a professional to select the right product for your hair. A proper moisture balance makes your hair stronger. Split ends are the biggest threat. So make sure you have your hair cut in a timely fashion. New hair resolutions are just as important as the other New Year's resolutions you are making at this time of year.
Establish a good relationship with a hair professional who will help you take care of your hair.