"Free Palestine!"
Herb Boyd | 4/12/2011, 5:25 p.m.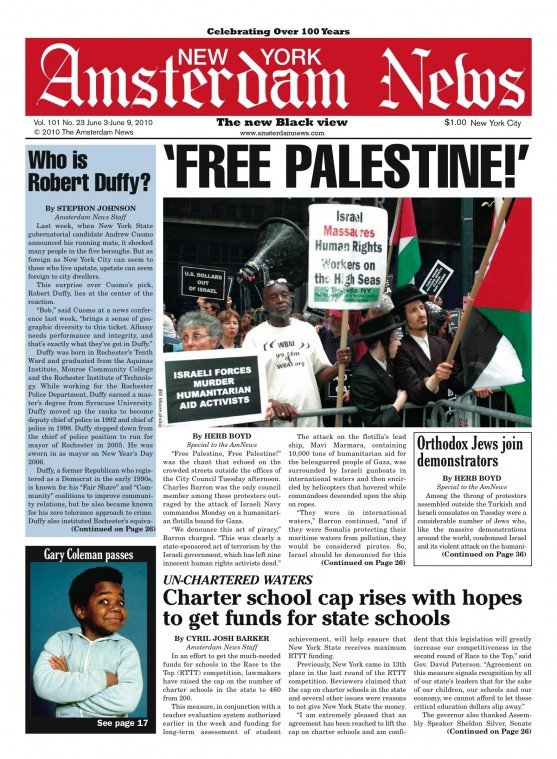 "Free Palestine, Free Palestine!" was the chant that echoed on the crowded streets outside the offices of the City Council Tuesday afternoon. Charles Barron was the only council member among those protesters outraged by the attack of Israeli Navy commandos Monday on a humanitarian flotilla bound for Gaza.
"We denounce this act of piracy," Barron charged. "This was clearly a state sponsored act of terrorism by the Israeli government, which has left nine innocent human rights activists dead."
The attack on the flotilla's lead ship, Mavi Marmara, containing 10,000 tons of humanitarian aid for the beleaguered people of Gaza, was surrounded by Israeli gunboats in international waters and then encircled by helicopters that hovered while commandoes descended upon the ship on ropes.
"They were in international waters," Barron continued, "and if they were Somalis protecting their maritime waters from pollution, they would be considered pirates. So, Israel should be denounced for this piracy in international waters."
According to reports from the Israeli government, the commandos intercepted the ships before they entered their waters and threatened to violate the blockade and economic embargo that has been in place since 2007, when the Hamas government was voted into office.
President Barack Obama, after hours of silence, said he "deeply regretted" what had happened and announced that an investigation would be launched.
Meanwhile, protest demonstrations occurred all over the world, and nowhere more aggressive than in Turkey. Many of the human rights activists on board the ship--and at least four of those reported killed--were Turks.
More than 10,000 people in Istanbul marched on the Israeli consulate, waving banners and shouting "Killer Israel." Bulent Arinc, Turkey's prime minister, said there were up to 400 Turks among those on board the Mavi Marmara, the Turkish cruise vessel leading the Freedom Flotilla.
The UN called for an end to the counterproductive and unacceptable blockade of Gaza. "We wish to make clear that such tragedies are entirely avoidable if Israel heeds the repeated calls of the international community to end its counterproductive and unacceptable blockade of Gaza," said a joint statement from Robert Serry, UN special coordinator for the Middle East Peace Process, and Filippo Grandi, commissioner of the UN Relief and Works Agency.
Councilman Barron, who traveled to Gaza last year and experienced similar intransigence by the Israelis to allow them to deliver food and medical supplies, said, "I've seen the destruction of Gaza. And what it amounts to is the systematic denial of the Palestinians' human rights, their inability to have food, water and medical supplies. It's a clear case of genocide."
"Wake up, Israel," screamed an impassioned Emad, a Palestinian activist who has also traveled to Gaza. "This is not about Muslim versus Jew. One of those on the ship was a Holocaust survivor, so wake up Israel." He noted that the U.S. annually supplied the Israeli government with $20 billion for its military. "American taxpayers' money is funding commandos who kill innocent people," he lamented.
Bill Doares of Al-Awda, the Palestine Right to Return Coalition; Palestinian artist and activist Samia Halaby; and Colette Pean of the International Association Against Torture were equally outspoken and disturbed by the Israeli aggression, which they agreed was "excessively brutal, illegal and immoral."