Generosity defined Yoseph Robinson's life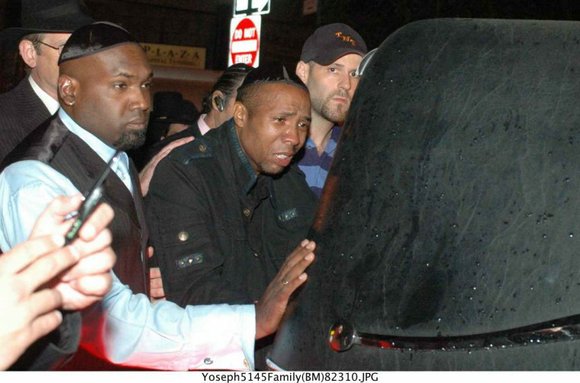 "He wasn't just my brother-in-law--he was inspiring to me, to see the changes that he made," said Shawn Walters when speaking about the late Yoseph Robinson. "Usually, brother-in-laws you only see on family occasions, but we were way beyond that level. We had a bond that people couldn't understand."
Robinson was shot and killed last Thursday in the Midwood section of Brooklyn as he minded the kosher liquor store owned by his close friend Benjy Ovitsh. According to his girlfriend, Lahavah Wallace, his last words were, "Tell my daughter that I love her."
A rainy Monday evening at the Shomrei Hadas Chapel in Borough Park was the setting for services honoring the life of Robinson. Orthodox Jews and non-Jews, whites and Blacks all showed up (to the tune of approximately 1,000 individuals) to pay respects to an individual who touched many lives and planned on touching more in the future. While Robinson wasn't able to see his vision through, the impact he left amongst friends, family, neighbors and strangers appears to be endless.
Even though the pain of his absence is very real, members of Robinson's family from both sides wanted to celebrate his life and discuss Robinson's real legacy to the world with the AmNews. They also wanted to refute some of the things written about his life in the mainstream press.
"The Daily News reported the story when he first got shot on Thursday," said Walters while sitting in his Brooklyn home. "By Friday morning, I was reading the Daily News and they stated that my brother came from California addicted to drugs. That's incorrect. He was never on drugs. He was never addicted to drugs. Second thing is, Kevin was never in a gang. And he definitely wasn't a petty criminal. He wasn't a nuisance to society."
The narrative in the mainstream press of Robinson's life focused more on his past involvement in "street life" and having a record label deal with Universal. Walters saw a life of sacrifice, courage, generosity, kindness and loyalty.
"When I had problems in my life with my wife, who is his sister, he would still stand by my side and say, 'I'll talk to her tomorrow,'" said Walters. "He was never a judgmental person. He never took sides. He put others before himself."
Ovitsh agreed. "In terms of who he was, he was beautiful, honest man of total integrity," he said. Ovitsh then recalled a recent situation where an elderly customer at the store left an envelope of cash. "He could've just kept it," he said. "No one would've said anything. Most of my friends would've said, 'Ooh, cash.' A day or two later, this elderly guy came back and was moved to tears. It was another example of the kind of person he was."
Robinson lived what many consider to be the American dream. He emigrated from Jamaica as a pre-teen, started humbly, went through ups and downs, and eventually worked toward a life of money, possible fame and a certain definition of happiness. He eventually gave that up to join the Jewish faith. He also wanted to unite the Jewish and Black cultures in Brooklyn, which have a long-reported legacy of divisiveness and tension. Ovitsh felt that Robinson was well on his way to accomplishing his goal.