Haitian Martine Cauthen: Brooklyn native helps rebuild her nation and her people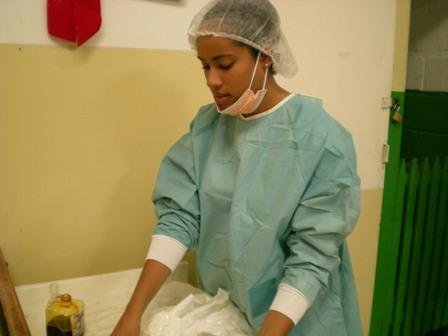 "It just shows that the Haitian people are strong," she said. "People are still digging out loved ones, and some are still alive. That just shows the strength of the Haitian people."
The earthquake damaged the school Cauthen taught at in Haiti. She reports that while over 70 children attend the school, she has only heard from eight of the students. After seeing her workplace in shambles, she decided it would be best to come back to New York for a while.
"After I saw the school, I couldn't take it anymore," she said. "I can't do this to myself. Living out there, there is not much you can do. I've done more here than I have there."
Being in Haiti and seeing the disaster firsthand, Cauthen said that the relief effort is slow. She said what people need most are shelter, food and clean water. Sickness and disease is spreading due to many people bathing in sewer water.
She advises that if people do send items, they send them to the Dominican Republic. Items delivered there can be taken to Haiti much faster. As people continue the massive monetary donations, Cauthen said people should commit to giving more than once.
"Don't believe what you see on TV. Don't think everybody is being fed and has a place to sleep," she said. "People are still hungry and people are still sleeping outside. The aid is there, but it's not easy to get to."
Cauthen is collecting items to fill with barrels to send back to Haiti and plans on going back to the island on February 8. She said that she is still taking donations and can be contacted at martineac@gmail.com. Cauthen advises that the best charity to donate to is the Baptist Haiti Mission (www.bhn.org).