Hands off Juanita Young!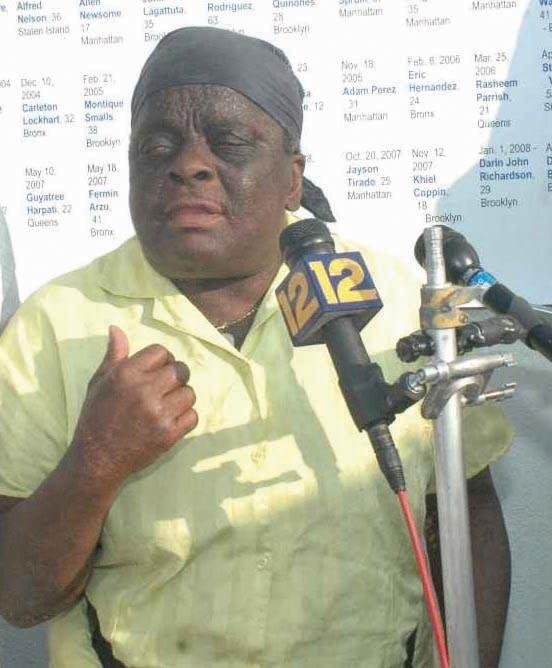 The diminutive freedom fighter joined the October22Coalition Against Police Brutality, a left-leaning group with national ties, and the rest is history, as they say. Young united with Iris Baez and Nicholas Heywood Sr. and many others as the voices in the city always on the scene to chastise the police for their constant bad behavior.
It was the AmNews that reported the full story in June 2007 that a Bronx jury awarded Young $10 million in punitive damages for the killing of Ferguson, saying the cop used excessive force. The same jury also cleared his name because there were no drugs found on him or at the scene.
Ferguson had been seen by the police as one of the leaders of the demonstrations in the neighborhood after the four cops who killed Amadou Diallo were found not guilty. Speculation would have it that the cops did not want Ferguson gaining any ground as a community activist.
Young has told me on more than one occasion that before her son's death, she was just a mom trying to raise her children. "I fear for the lives of my children and grandchildren. We are not safe. I am a target," she writes.
The one person who can put a stop to this is Bronx District Attorney Robert Johnson, the Negro in "white-face" who, when this reporter asked him while standing in front of the church where Police Officer Omar Edwards was to be memorialized, what it would take to get him and Juanita to sit down for a talk, Johnson said, "You know Juanita," and walked into the church.
Why is Johnson the key?
He has wasted taxpayers' hard-earned dollars on frivolous charges, such as in 2003 when officers evicted Juanita Young and her family from her apartment, charged her with trespassing and physically removed her. A jury determined in October 2007 that the arresting officer used excessive force and she was later acquitted of all charges.
November 2006, Juanita Young is arrested by eight cops who are answering a call for an ambulance. She was beaten, kicked and handcuffed to a hospital bed for four days until supporters held a press conference. The district attorney then sends her a ticket to appear in court.
October 2008, another jury acquits her of all charges.
Now, the cops are breaking down her door, claiming that there is a warrant for her youngest son, Buddy, which may have to do with him not answering a desk appearance summons. The latest fiasco has to do with Buddy being implicated in a robbery, but when they get to court, the people there are only talking about a misdemeanor charge. Johnson can put an end to all of this!
No one at 1 Police Plaza, City Hall or the Bronx district attorney's office wants to talk about Juanita Young. Is that surprising?
"Though I have been diligently fighting against police brutality for nine years, this most recent string of attacks has left me shaking to the core," writes Juanita Young.
So, all of us who boast that we put our pants on one leg at a time, best to take Brother Shaka's advice and realize that this will stop only when we organize and make it stop.
Hands off Juanita Young and family!