Harlem educator honored for helping students get to college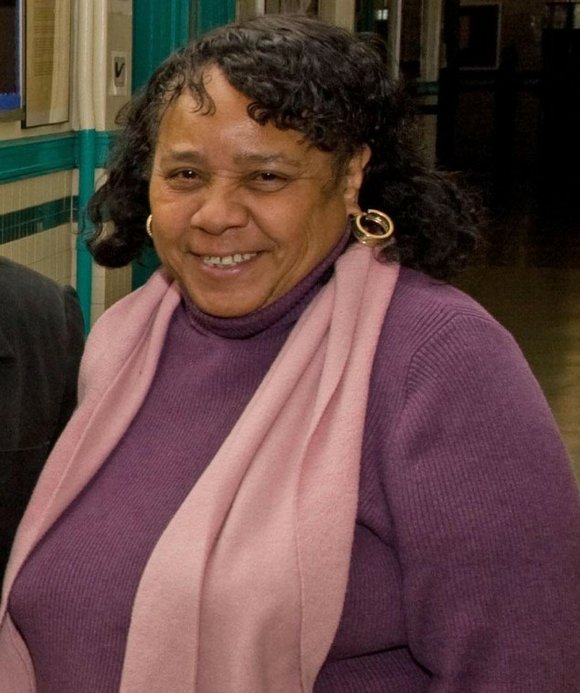 Delores Roberts, a teacher at Wadleigh Secondary School, located at 215 West 114th Street in Harlem, was one of three outstanding educators recently honored with the Mario Pena Award at the College for Every Student (CFES) National Conference for their efforts in helping underserved students get into college.
Mario Pena was a founding board member of CFES, which started in the early '90s. The award is given annually to two to three educators who work in the CFES program. Approximately 140 schools and more than 200 colleges located throughout the five boroughs and upstate New York are in the program.
Roberts goes above and beyond the call of duty to make sure her students use every opportunity to make their college dreams a reality.
Noah Feder, program director and coordinator for CFES, said Roberts has been the CFES liaison at Wadleigh. He spoke of her dedication to her students.
"Delores Roberts motivates her students, sometimes riding the bus for five hours for a college tour. She's been doing this for eight years, building relationships with colleges. She travels all over upstate New York and New England. Students have gone to public and private colleges throughout the region. She has helped thousands of students make the successful transition to college. I've had a chance to work with her over the past two years, seeing her dedication and how much her students appreciate what she does. Her students call her 'Mama Roberts,'" he said.
Roberts talked to the Amsterdam News about her important work in inspiring and helping underserved kids in our community realize that college is the way to go.
"Wadleigh moved from a school in need of supervision to a CEFES school. The first group graduated 2006.
"We started a campaign for 100 percent college acceptance," said Roberts. "We worked to develop a state of mind with our kids with just 10 leaders. After that, we came up with Better and Beyond, with graduates from Syracuse University, Binghamton University, University of Vermont and Skidmore College.
"We got our ball players involved. We're proud of that. We were able to reach all our kids and let them know, 'You can do this,'" she said.
"The second group was in 2007. Two of those kids received $20,000 scholarships and six received the advancements via individual determination," said Roberts. "There is an anonymous donor that now supports 18 Wadleigh students. Students are taken care of for four years, including books, travel money for three times a year, a laptop computer and printer. They also get a $150 a month stipend and get to travel abroad. Last year, eight of our kids got a total of over $757,000 for four years.
"The more you become involved, the more you learn. I'm still learning. That's why we have success here at Wadleigh. We're going to Rodger Williams and have the kids perform spoken word and sing. This is a new dimension. We need the colleges to see the talent we have here in Harlem. CFES has provided me with the opportunity to do many things.
"Karen Judge of CFES believes in the children of Harlem and the things that I'm trying to do here," Roberts added. "Sally Phelps from Colgate Palmolive has been a part of Wadleigh and sponsors the college tours. Cordell and State Senator Bill Perkins have been here for Wadleigh since day one. This was a school under review for supervision, and now we are getting advanced diplomas."
On receiving this Mario Pena Award, Roberts concluded, "I was once a student at Waleigh and was totally shocked to get the call. This is something generally given to administrators and counselors in the college arena. I'm thinking I was just doing what was necessary to get our kids into college. I felt we've come a long way, but it made me say that I've got to keep on pushing. I'm glad I'm doing the things I'm doing and grateful to everyone for giving me this opportunity. This is what was expected of me. The Lord has given me the vehicles to do what I'm supposed to do. I feel real good."