Harlem's Keith David enjoys the ride on NBC's 'The Cape'
Misani | 4/12/2011, 4:45 p.m.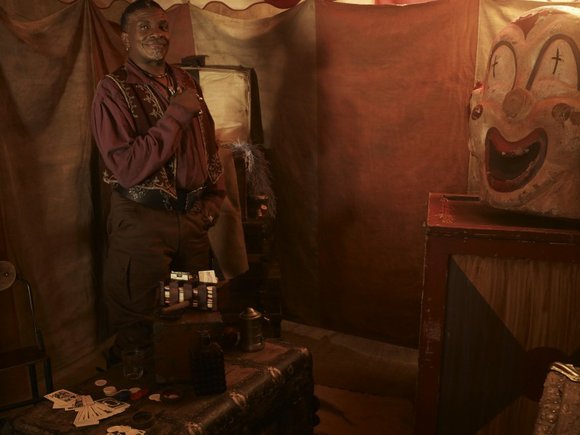 The year 2011 kicked off with a lot of love for the two premiere episodes of "The Cape," which aired last Sunday at 9 p.m. on NBC.
A Universal Media Studios and BermanBraun (Gail Berman and Lloyd Braun) production from executive producer/creator Tom Wheeler and executive producers Berman and Braun, John Wirth, and Gene Stein, "The Cape" is "about an ordinary man who turns into an action superhero after he loses everything--and then decides that he is going to take it all back."
Vince Farady (David Lyons), is a Palm City policeman who abandons everything--his wife, Dana (Jennifer Ferrin), son, Trip (Ryan Wynott), career and identity--after being set up for committing a crime. He retaliates by going underground and assuming the persona of The Cape, his son's favorite comic book superhero.
Assisting Farady in this feat, which will enable him to fight Ark, the corrupt authorities that have overtaken Palm City, is Max Malini (Keith David), whom fate has brought into the life of the former cop. Malini, the ringleader of a circus gang of bank robbers called The Carnival of Crime, is a master magician, illusionist and escapist who assumes the role of mentor to Farady, providing him with the skills to be The Cape.
The Emmy Award-winning David, whose credits includes over 150 film and TV roles, discussed various aspects of "The Cape" including his fellow cast members: James Frain as billionaire Peter Fleming, The Cape's nemesis who doubles as a perverse killer; Summer Glau as Orwell, an investigative blogger who wages war on crime and corruption in Palm City; Dorian Missick as Marty Voyt, a former police detective and friend to Faraday; Martin Klebba as Rollo, member and unassuming muscle of the circus gang of bank robbers; and Vinnie Jones as Scales, resident thug and cohort of The Cape's nemesis Chess.
David, a native Harlemite and Juilliard graduate, shared his thoughts about the new series and his role as Max Malini, the larger-than-life character whose mellifluous-sounding name does indeed conveys a smooth, strong, impressively uncommon man, and who knows the ins and outs of the circus milieu extensively.
David paints his character's backstory: "For me, Max took the name from someone he has worked with previously. I believe Max was a boy who ran away as a child, who never knew his father, and studied under many in the circus, so he is an all-around circus man. And he is fascinated with magic. He apprenticed under all these people and became fascinated like myself, about Merlin (the magician) and High John the Conqueror (John de Conquer, an enslaved African Prince brought to America) and all those kinds of people," he said, adding, "I am still searching for the Black Houdini (magician, escapologist, stunt performer).... He certainly traveled through Europe. He is going to China, Indonesia, Africa. There's an upcoming scene where I was in the Sahara in Africa and learned various things."
Focusing on the cape, a black garment made of spider silk that Farady dons, David explains, "You will come to know that the cape has a personality of its own. The cape has a very long history, and its own angels and demons, and it brings out the personality of the wearer, so as I told Farady [in the opening episode], 'Either you wear the cape, or the cape wears you.'" David compared this to a child and an actor trying on something new. "I think this time more than most, whenever a child goes into its parent's closet and tries on something in the closet, or an actor goes into a costume room alone and starts putting on things, it brings out things in your own personality--sometimes things that you didn't even know were inside of you. The cape has that kind of possibility and capability."