Heinous dragging death in Texas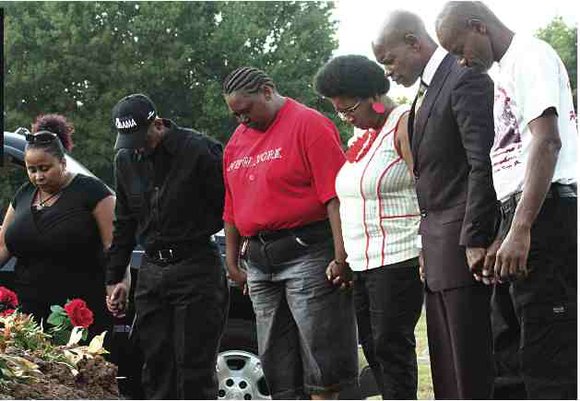 Mr. Finley said he fired at the robbers, but accidentally shot his friend. It was later determined in an autopsy that the victim suffered three gunshot wounds to the head, but the district attorney at the time accepted Finley's contention that the shooting was an accident and offered him a plea bargain on a reduced manslaughter charge. He would eventually serve a little over a year of a four-year prison sentence and the alleged robbers were never apprehended. It was also in this case that McClelland falsely testified before a grand jury that Finley was with him at the time of the shooting. For lying under oath, McClelland was convicted of aggravated perjury and served over two years in prison.
GRASSROOTS GROUPS ON THE GROUND
Members of the New Black Panther Party (NBPP), Houston Millions More Movement and the Nation of Islam conducted a fact-finding mission in Paris on Oct.5 to comfort the grieving family, interview witnesses and to plan a massive town hall meeting at the end of the month.
"We want justice for this family and we want these two criminals prosecuted to the fullness of the law," said Krystal Muhammad of the NBPP. "We will be closely monitoring this case." Members of the NBPP met with District Attorney Young on Oct. 6 and held a press conference in downtown. "We are asking for an outside agency to come in and ensure that justice is served," said NBPP member Derrick Brown. "This is a hate crime," said Paris activist Brenda Cherry.
She has been working with the McClelland family. "This is just like Jasper all over again." "This killing does not surprise me and it bears witness to the racism that still exists in Paris and other towns," said Creola Cotton. Ms. Cotton knows first-hand about Paris' racial disparities. Last year, her then 14-year-old Black daughter, Shaquanda Cotton, was sentenced by a local judge to up to seven years for shoving a hall monitor at her high school. Just three months earlier, the same judge had sentenced a 14-year-old white girl to probation after convicting her of arson on her family's house. The case drew national attention and resulted in her daughter's early release from prison. "Recently, after nooses started popping up everywhere, the Honorable Minister Louis Farrakhan warned us that these types of hate-filled activities would increase," said Deric Muhammad of the Millions More Movement, who visited the family and the crime scene. "That crime scene looked like the aftermath of a bloody lynching. If this is not a hate crime, I don't know what is."