Hopkins masterpiece victory one for the aged
Howie Evans | 4/12/2011, 4:34 p.m.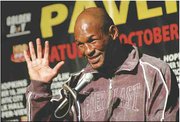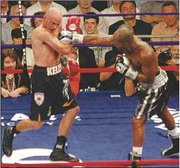 ATLANTIC CITY-Bernard Hopkins,43 years of age and an un-prohibitive betting underdog, stunned his critics with a near
flawless masterpiece of a win over Kelly Pavlik, the much-ballyhooed 34-0, 30 by knockout slugger from Youngstown, Ohio.
Only those fans, most from Philadelphia, Bernard's hometown, went to the windows and bet down hard on the man they adoringly called in their chant, "B-Hop, B-Hop," throughout the 12 round fight. Boardwalk Hall in Atlantic City was packed to the brim with close to 12,000 fans, more than half of who had wagered and cheered lustily for Pavlik before the fight and up until the sixth round, when their roars became a silent statement that their man was being taken to school by Hopkins, now 49-5- 1, 30 KOs. The scorecards told the story. My unofficial card noted Pavlik didn't win a single round: a shutout. Two judges awarded Pavlik one round, probably the first, which could have gone either way. One judge gave him three rounds. Hopkins noted at the post-fight press conference, "I watched a lot of film. I knew what I had to do."
Bernard physically and mentally broke down Pavlik on the inside, the outside and when they went toe-to-toe. He at all times circled left around Pavlik's body, avoiding the power of Kelly's right hand. By the middle of the fight, Pavlik's confusion was glaringly evident. Fighting at 170 pounds was not a plus for Kelly, the middleweight champ. Hopkins told him after the fight to go back to the middleweight division where, he said, "You're a great champion." Asked to rank his victory, Bernard said, "The top. Outdid Trinidad and everything I've accomplished because of the magnitude of the time. This guy (Pavlik) was just coming out of his mother when I started fighting. This has to be the tops."