In the money!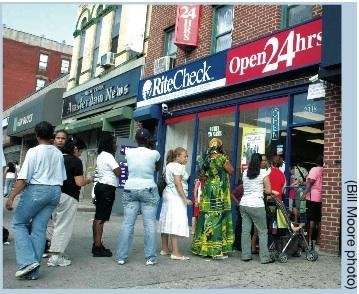 He said, "Over the past year in New York City, we've attacked the national recession by doing more than ever to connect New Yorkers to employment, job training and the critical financial supports they need. Governor Paterson and I agree that New York's brightest days are still ahead of us and we will continue to work hard for those in need." The money can be used to buy school supplies like pens, pencils, notebooks and backpacks. Tutoring, school uniforms and other clothing can also be purchased. The governor's office is encouraging families to take advantage of discounts and sales offered by retailers.
Some retailers like Old Navy are offering discounts to people who received money. Recipients who present an EBT card and ID receive a 10 percent discount on back-to-school purchases.
While office supplies store Staples wouldn't comment on sales trends at its stores, Mark Crowly of the company said that discounts are going on now at Staples for people to come in and stock up. "We've reduced 250 of our back-to-school products," he said. "We also have penny deals and dollar deals." Lazarus Department Store on 125th Street, which sells children's clothing, has seen an increase in customers since people received their money, according to the manager.
"More people are starting to come in," she said. "They definitely appreciate it. I think it's going to be good for business as long as it lasts." "A new school year can be overwhelming enough for families in good economic times," said Schools Chancellor Joel Klein. "Thanks to this innovative public-private partnership, they won't have the extra burden of worrying about the cost of basic supplies and their children will have the tools they need to start the year off right."
Critics of the money give-away say there is no guarantee that people who are getting the funds will use it towards school supplies. Republican Senate Leader Dean Skelos said the move is an "irresponsible" use of stimulus money. "The governor's new plan, which he developed in secret with no legislative input, is little more than free money available at ATMs," he said. "It is a plan that is ripe for fraud and abuse that could be continued for years, saddling taxpayers with a questionable public assistance program at a time when they have already had enough of increasing spending and taxes."