James Earl Jones talks career, return to Broadway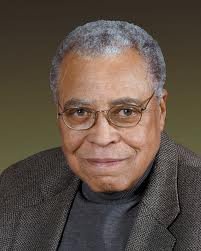 Approaching age 80 this January, actor James Earl Jones demonstrated his humility, kindness and humor on Monday, when New York Times theater reporter Patrick Healy interviewed him as part of the paper's Times Talks series at The Times Center building at 242 West 41st Street. Jones stepped out wearing an ascot with a jacket and slacks, looking very much the gentleman, to talk about his upcoming lead role on Broadway in "Driving Miss Daisy", which will begin performances at the John Golden Theatre at 252 West 45th Street on October 7 and open on October 25. He will be playing opposite Vanessa Redgrave and will be joined by Boyd Gaines.
Healy began by asking Jones about his stuttering problem and how he had managed to overcome it, to which Jones remarked, "I'm still a stutterer."
He explained that he moved from Mississippi to Michigan and went from a one-room schoolhouse to a regular school. He attended an agricultural high school and had a teacher, Donald Crouch, who taught Latin, English, literature and world and American history. Crouch saw that Jones did not speak a lot. "He discovered I had a love for words, though. I was constantly writing poetry. He told me, 'If you love words, you've got to be able to say them out loud to communicate.' I could talk to the horse or dog on the farm, but I couldn't introduce myself to people who came to visit our farm--that was a confrontation. Mr. Crouch told me to memorize one of my poems and say it in front of the class, and the spell was broken."
Jones shared that his first acting experience came in high school--he played a horse's rear-end. (That brought a laugh to the packed auditorium.) He went on to attend the University of Michigan and joined the off-campus theater company.
Healy asked Jones if anyone told him how special his voice sounds, to which he humbly replied, "I remind myself that I'm still a stutterer and my main thing is to communicate as well as I can." When asked which of his past roles in theater he preferred, Jones responded, "They are all my children--even the roles that were horrible."
Healy talked about Jones being cast in 1968 as boxer Jack Johnson in "The Great White Hope" on Broadway, where he played opposite Jane Alexander. The audience was treated to seeing a very young and powerful Jones portray this aggressive character. Healy inquired as to the reactions Jones received from the public.
"Jane told me that she got hate mail," he said. "I was confounded by the reactions during the show. In one scene, I'm beating Jane with a wet T-shirt and I would hear the Black women in the audience shout, 'Whip the b---!' I couldn't understand why they were saying this. I was already whipping her. I would confront the women, and my fellow cast members told me that I should just accept what the audience gives me and don't say anything, because it made it hard for them to go out there and follow behind me."