James Earl Jones talks career, return to Broadway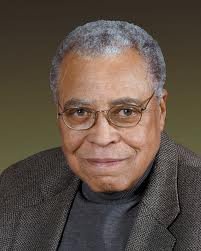 Jones' work in the "Star Wars" films was mentioned, of course, and Healy shared that those films were how he was introduced to Jones as a child. Jones worked steadily on Broadway from the 1960s through the '80s. Healy spoke of Jones starring in "Fences," and Jones explained that August Wilson said he wrote the Troy character with him in mind. The audience then got to watch a very amazing Jones on screen with Courtney Vance in the Broadway production.
"That is the classic August Wilson--all the passion--and I love Courtney in that role," Jones said as he wiped tears from his eyes. Healy talked with Jones about his performances in "Cat on a Hot Tin Roof" and "On Golden Pond," the "un"-traditional casting of him playing what has normally been a white role. Jones explained that skin color your wasn't important because these plays are about family.
He admitted with "Cat on a Hot Tin Roof" that Big Daddy was a cruel character in some ways and that when he continued the role in London, he became physically ill having to play the character because he increased the character's meanness toward Big Mama.
Regarding his newest role in "Driving Miss Daisy" as Hoke Colburn, the role that everyone associates with the movie starring Morgan Freeman, Jones said he is ready to play it because he knows many people who are like that. "I know Hoke, and I can do him. Hoke is a throwback. He doesn't have the powers of speech. He hasn't grown because he doesn't read. He's been educated by life," Jones explained.
Talking of his character and Miss Daisy, played by Vanessa Redgrave, he explained, "Hoke is not a fighter, he's pushed into it. Miss Daisy likes to fight. Her concept of life is survival and self-reliance," he said.
They're currently in rehearsals for the show, and Jones would not say much about it. The floor was opened to the audience. Some asked questions about his stuttering, sharing that they stuttered or knew someone who did and said that he was someone who inspired people with this problem.
Speaking of the show, Jones shared, "I'm not nervous. We're all falling in love with our characters and the other characters."
"Driving Miss Daisy" is a Pulitzer Prize-winning play by Alfred Uhry. For more information, go to www.daisyonbroadway.com.