'Justice for Omar!'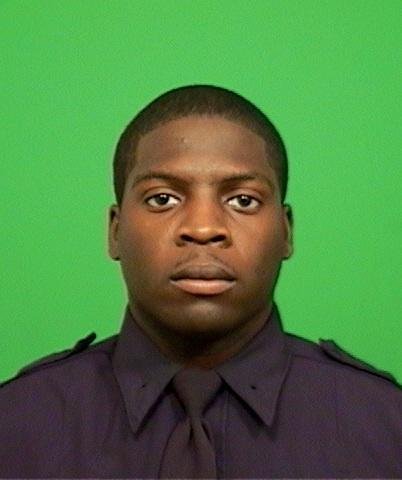 Omar Edwards, 25, a New York City police officer in plain clothes, was shot and killed by Officer Andrew Dunton, 30, while chasing down a suspect he caught rummaging through his car. Edwards left behind a wife, two kids and a family heartbroken by the death of a young man living out his dreams.
According to investigators, at around 10:30 p.m. last Thursday night on 125th Street in East Harlem, Edwards, after finishing his shift, saw a man attempting to steal objects from his vehicle. Edwards confronted the man, identified as Miguel Santiago, and a struggle ensued. Santiago broke free and a foot chase began. At the same time, a plainclothes anti-crime team driving an unmarked car spotted Edwards, with his gun drawn, chasing Santiago and followed him. Dunton, who is white, got out of his car and opened fire on Edwards, shooting six times, connecting twice (once in the arm and once in the chest). Edwards, who wasn't wearing a bullet-proof vest, was pronounced dead at Harlem Hospital. Many folks in the Black community, having seen this story before, are not buying the events as reported and are demanding justice. Marquez Claxton, cofounder of 100 Blacks in Law Enforcement Who Care, said he could predict the pattern the New York Police Department would take to soften the impact of community outrage.
"Limit info and access so reports conflict," said Claxton. "Overwhelm the family with compassion and understanding. [They] make strong commitments to change and then they wait it out until later on when they can find a way to vilify the dead police officer."
"Once they feel assured that they have weathered the public relations storm, they'll have an investigator point out what they victim did wrong as oppose to what the shooter did wrong," Claxton said.
Some of that blueprint has come to fruition. The NYPD has already expressed surface sympathy for the slain officer and has outwardly called for a change in training to make sure "something like this doesn't happen again."
While Mayor Michael Bloomberg said he trusts that the upcoming investigation by District Attorney Robert Morgenthau will be fair, local officials at a rally held at the National Action Network headquarters last Saturday, led by the Rev. Al Sharpton, asked for an outside source to deal with the matter. "When is this going to end?" pondered current Queens City Councilman and comptroller candidate John Liu. "More than a half billion dollars paid out for wrongful police actions. This ain't according to me; this is according to the New York Post. They may have something right there.
"It is costing taxpayers, but far more than that, a half a billion dollars can't compensate for these lives lost," Liu said. "I, too, call for an independent investigation."
"National Action Network, come on up to Albany and demand that we have a racial profiling law in place. I wrote the bill. State Senator Eric Adams sponsored it," said State Sen. Bill Perkins. He said the bill would "make sure that during police misconduct cases, we'd have the attorney general prosecute those cases."