La MaMa's Ellen Stewart passes, honored by Public Theater
Misani | 4/12/2011, 4:47 p.m.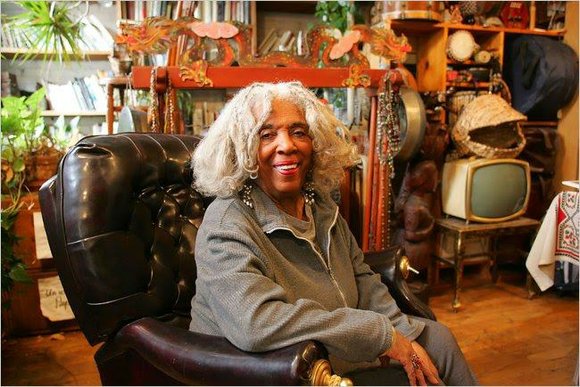 The esteemed Ellen Stewart, founder of the internationally renowned La MaMa E.T.C. (Experimental Theatre Club), died tranquilly in her sleep last Thursday morning, Jan. 13 in New York City. She was 91.
In memoriam of Stewart, who was born on Nov. 7, 1919, in Alexandria, La. (and raised in Chicago), a three-day observance was held on Saturday, Jan. 15 at the Church of the Nativity at 44 Second Ave., followed on Sunday, Jan. 16 at Greenwich Village Funeral Home at 199 Bleecker St. A mass of Christian burial took place on Monday, Jan. 17 at 10 a.m. at St. Patrick's Cathedral, Fifth Avenue at 51st Street.
During her remarkable half-century reign at La MaMA, which houses three theaters on East 4th Street in New York's Lower East Side, both Ellen Stewart, the grand dame of the '60s Off-Off Broadway movement, and her organization have become landmark cultural treasures, providing playwrights, directors, performers and technical designers with a home to work and present their craft to the world. Amongst the remarkable roster of greats who have passed through La MaMa are such luminaries as Al Pacino, Sam Shepard, Robert De Nero, Harvey Fierstein and Bette Midler.
Founded in 1961, La MaMa was created after Stewart, who was raised in Chicago, relocated to New York to study fashion design because Chicago's discrimination laws prevented her from attending this type of school. After procuring a job as a porter at Saks on Fifth Avenue to enable her to earn her tuition for design school, Stewart was singled out by customers for the well-crafted, handmade garments she wore under her smock. Subsequently after three months, she was promoted to the position of executive designer at the upscale store.
After a successful career at Saks, Stewart left to work as a freelance designer. Her caring, maternal nature--which would later inspire the name La MaMa--prompted her to assist her brother Fred Light, a playwright, and his friend, who were having a challenging time getting their plays produced in New York City. Using the earnings she made as a designer, Stewart subsequently rented a basement on 9th Street, which she converted into a theater for the playwrights to produce their work
This desire to help someone achieve his dreams would, in 1962, manifest into the creation of Cafe La MaMa, which evolved into the present-day La MaMa E.T.C., the distinguished company of some of the most innovative cross-cultural theater initiatives.
To date, more than 1,900 productions have been presented by its resident theater troupes--the first one created by the director Tom O'Horgan, featuring the works of Sam Shephard and Rochelle Owens. Since that time, La MaMa troupes have performed worldwide, including in Australia, Austria, Belgium, Columbia, Croatia, Denmark, England, Finland, France, Greece, Holland, Iran, Italy, Korea, Lebanon, Macedonia, the Netherlands, Scotland, Siberia, Spain, Sweden, Switzerland, Turkey, Ukraine, Venezuela and Yugoslavia.
In turn, La MaMa has played host at its East 4th Street spaces to international companies such as New Eastern European Theatre, when artists Ryszard Cieslak, Ludwig Flaszen and Jerzy Grotowski were introduced to America by Stewart with the assistance of New York University's Ted Hoffman. Since then, as the visionary host of over 70 countries, La MaMa has attained the eminent distinction as being an international theater, where at each performance the harmonious chimes of Stewart's trademark cowbell, followed by her warm welcome at the top of the show, readies the audience for a unique, inspirational, edutainment theater experience.