La MaMa's Ellen Stewart passes, honored by Public Theater
Misani | 4/12/2011, 4:47 p.m.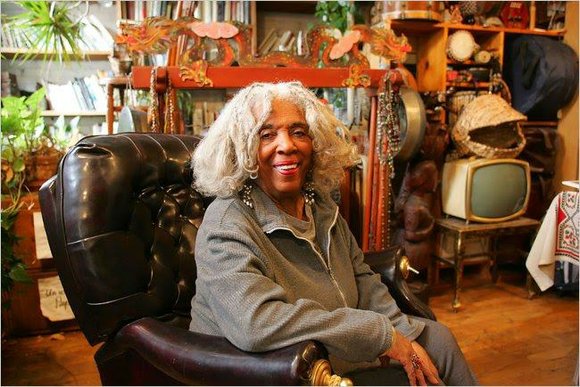 A versatile artist, Stewart has staged, composed, directed and written librettos for original folk opera-spectacles that have been presented in America as well as all over the world, including: Argentina, Austria, Brazil, Bulgaria, the Republic of Cameroon, the Central African Republic, Haiti, Italy, Morocco, Nigeria, the Philippines, Senegal, Yugoslavia and Zaire--where she has also lectured. Stewart, who has also served as a visiting professor at the Institute of Drama in South Korea, was also a member of the Seoul International Theatre Institute.
The recipient of numerous honorary doctorates and awards, including the MacArthur "Genius Award" and the National Endowment for Arts and Culture Award, Stewart was inducted into the Broadway Theatre Hall of Fame in 1993. She was also made an officer in France's "Ordre des Arts et des Lettres" (Order of Arts and Letters) and has received numerous other awards, amongst them the Les Kurbas Award for Distinguished Services to Art and Culture from the Ukraine; the Order of the Sacred Treasure: Gold Rays with Rosette by the emperor of Japan; and the Human Rights Award of the Philippines from President Corazon Aquino.
La MaMa's neighbor, the Public Theater, dedicated its 2010-2011 55th anniversary season, as well as the remaining performances of this year's acclaimed Under the Radar Festival, "in memory of Ellen Stewart, a dear friend."
"Ellen Stewart was a giant of the American theater and of the world theater. Her vision, her taste, her passion, and her integrity set a shining example that all of us can aspire to," said Public Theater Artistic Director Oskar Eustis. "She had a profound impact on the lives of countless artists, and she left a mark on the city of New York that will never be erased. We are proud to dedicate the entire season at the Public Theater to celebrate her memory."
Under the Radar Festival producer Mark Russell commented: "Ellen Stewart was the mother of all of us in downtown theater. Her vision and influence extends around the globe, and her impact on the world's theater is immense."
The Casting Pearls series pays tribute to the brilliant professional talent of stage and screen and to institutions promoting daring, brilliant productions.