Leukemia-free Jasmina to meet President Obama for Thanksgiving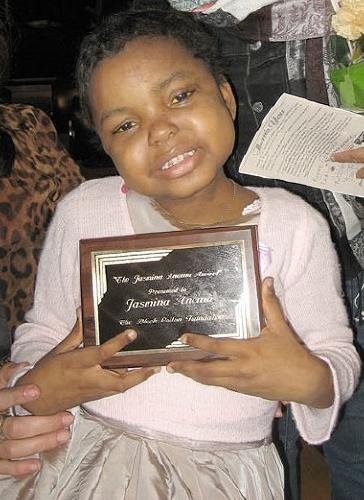 The city's little princess, Jasmina Anema, who roused the people across the city to register to become bone-marrow donors in the One for Jasmina bone marrow drives after being diagnosed with leukemia, will meet President Obama over the Thanksgiving holiday, according to Jasmina's mother, Theodora Anema.
The Make-a-Wish foundation flew Jasmina and her mom out to Washington, D.C., on Tuesday to meet the president at the White House. Anema told the Amsterdam News that they would mostly likely only meet the president unless Mrs. Obama is walking by in the halls. She added that Mr. and Mrs. Obama's daughters, Malia and Sasha, are usually kept out of the media's glare.
"A friend of mine, back in February, applied for it," Anema said about the Make-A-Wish Foundation granting the wish for Jasmina to meet President Obama. "I think Jasmina wants to meet the president," Anema said her friend said to her in the early days of Jasmina's diagnoses.
Jasmina has an unfortunate connection with the president because the city's princess was diagnosed with leukemia on January 20, the day that he was inaugurated as the nation's first Black president. Jasmina's mom said she remembered the inauguration "very well" because the day brought "mixed feeling."
The doctors and nurses were drawing Jasmina's blood and looking at the television because the day was so historic, Anema said, adding that her and her friends were very happy that Obama was being inaugurated, but also saddened to learn Jasmina had leukemia.
Jasmina has received a lot of media coverage since being diagnosed with an aggressive form of leukemia that put her in desperate need of a bone-marrow donor. Because she is a person of color, the odds of finding a bone-marrow donor were statistically against her. Black people were not getting tested to be bone-marrow donors, and therefore were not in the register in large numbers.
But all that changed when politicians, celebrities and everyday people got tested to raise awareness for Jasmina. People who came forward included: Governor David Patterson, Geoffrey Canada from the Harlem Children's Zone, rapper Lil Mama, and singers Rihanna and Kelly Roland, among many others.
After several bone-marrow drives throughout the city, 11 potential matches were found for Jasmina. The bone-marrow drives raised awareness for the need for people of color to get tested and perhaps be matched to save someone's life. Because of this awareness, Jasmina was the recipient of a Dr. Betty Behiyah Shabazz Award, named after the namesake of Dr. Betty Shabazz, from The Black Cotton Foundation. Anema said that Jasmina walked across the stage by herself to receive the award and told her mother that it was a night she would never forget.
All this comes weeks after Anema was told she had two options after Jasmina's diagnosis looked bleak when her leukemia returned and was growing rapidly. Anema was told to either A, take Jasmina off all medications and take her to Disney Land and let her eat everything she likes, or B, prolong the medical treatments. Anema choose option B.