Leukemia-free Jasmina to meet President Obama for Thanksgiving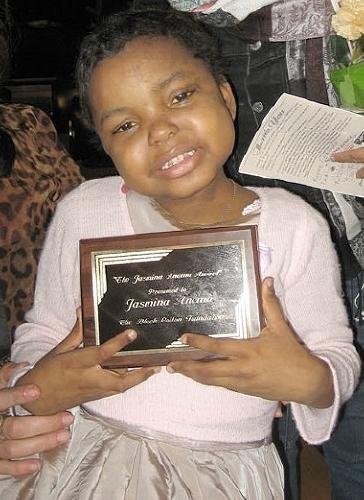 Although her prognosis has been a constant rollercoaster with ups and downs that included her recently being diagnosed with type-2 diabetes, she has been told that her cancer is "miraculously" gone. She still has to deal with the graft vs. host disease that resulted from Jasmina's body rejecting of the near-perfect bone-marrow match. Katharina Harf, co-founder and executive vice president of DKMS, the world largest marrow center, told the Amsterdam News that graft vs. host disease can affect the liver function and the skin, but at the same time, it attacks the left-over leukemia cells, which is a good thing for Jasmina.
Jasmina's mom said she still wants to raise awareness for people of color to become bone-marrow donors.
Harf said, "Yes, we need so many more donors, especially African-Americans and Hispanics [who] don't have an equal chance to find a match" like Caucasians.
Out of 7 million people in the national register, a half a million are African-American. Harf said that if an African-American gets leukemia, it is almost impossible to find a match, adding that 83 percent of African-American patients don't receive a life-saving bone-marrow transplant.
Although Jasmina is home now with her new, much-anticipated cat Lucky and has home schooling, she still goes to the hospital two times a week and takes 16 different medicines every day.
Jasmina will have a biopsy in three weeks to see if there are any changes in her condition. Fingers crossed and prayers asked are for the leukemia to stay at 0 percent.
But in the meantime, the city's little princess is meeting the president of the United States and still raising awareness on the need for African-Americans to become bone-marrow donors. For more information on becoming a bone-marrow donor, visit the DKMS website at www.dkmsamericas.org and oneforjasmina.com.